NEW OFFICES FOR UNDER £4000!
Tuesday 12 April 2016 Filed in: General
On sale now - new 10ft steel site offices, lined and insulated, with electrics, repainted to the colour of your choice. Cheap delivery rates available - call today for a quote.
Features of our anti vandal office
Have your own portable work space, fully equipped for comfort and practicality, installed and ready to use within days! For £3995 plus VAT, we provide a "once used" 10ft steel shipping container converted to an office with the following features:
Melamine lining and insulation
Vinyl flooring
Anti vandal window
Personnel door
Electrics
Electrics include consumer unit, external hook up, 2 x 5ft strip light (or 1 x 10ft), 1 x double socket, 2 kw convector heater.
Options:
Ply lining
can be requested as an alternative to melamine. An additional window can be fitted as an optional extra.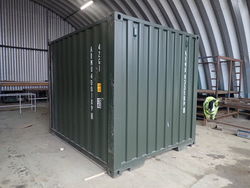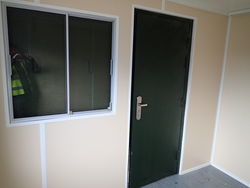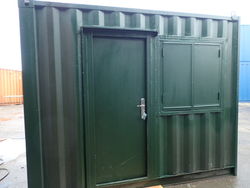 Other offices
Learn more about office conversions at Containers Direct, and see more examples from 10ft - 40ft by visiting our web page
Container Conversion Offices