New range of optional extras for storage containers!
Friday 18 July 2014 Filed in: General
Containers Direct have expanded the range of optional extras offered with container purchases. After listening to customer feedback, and the ever increasing variety of uses our storage containers our being put to, we decided it was time to update our container enhancement packages. It's now easy to order shelving, electrics, and food hygiene standard lining, fitted prior to dispatch of your container.
We follow a simple price structure, based upon the size of the container, so there are no 'hidden surprises' in the final total.
Shelving
We have teamed up with the UK's reputable top supplier of storage accessories, BiGDUG, to bring our own customers the best deal in
shelving
suitable for our steel storage containers. With a heavy duty steel framework, designed to bear heavy loads, we price our shelving per interconnectable bay, with the option of pre fitted or self assembly.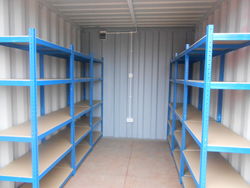 Electrics
With a choice of 2 standard
electrical packages
, or bespoke installations, we can install to your required layout, so when your container arrives you have lighting, power sockets, and even heating, ready to go! With a consumer unit and external hook up provided, it's easier than you think to supply power to your container, wherever it's located.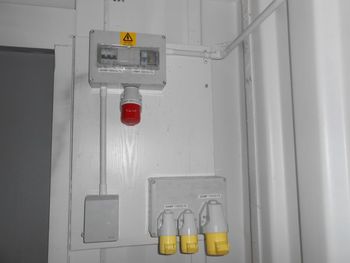 Ply lining
The belt and braces approach to eliminating condensation in containers. The inside of the container is
insulated
with rockwool, and then covered with ply wood, to maintain a constant temperature within.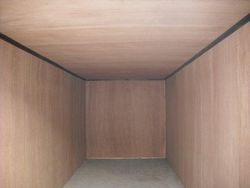 Melamine lining
Ply lining, used to insulate containers, has been offered as a extra in our storage containers for some time– and now we are able to offer an alternative to ply lining, that is suitable for containers used in food preparation and catering. This
melamine lining
can be wiped clean, to maintain a hygienic environment to health and safety standards in the food and catering industry.