10ft Used Containers - S2
Containers Direct specialise in
cut down containers
, specifically fabricated for the storage market. One of our most popular cut downs is our 10ft used container with S2 style doors. Providing robust security and weatherproof seals, these small units are the perfect store for both household storage and site storage.
Please note, our 10ft containers second hand are cut down containers.
The S2 Door Type

The S2 door type is the original container doors on any shipping container. These doors provide excellent security, with 16mm thick steel and four locking arms on every S2 door. We also add on a lockbox to all of our 10ft used S2 style doors to keep your padlock tamper-proof!

One of the main benefits of these doors are the rubber door seals which keep the unit fully sealed and waterproof. Although our S1 door type can have door seals added, S2 doors have these as standard.
The Construction Process
Shipping containers come in either 20ft or 40ft in length and are all 8ft wide. However, we understand that these lengths aren't always suitable for the storage market. Containers Direct have been cutting down containers to suit our customers since we started in 2008, and have set up our in-house depot to specifically fabricate for the storage market. For our 10ft containers, we would cut down from a 40ft unit to produce four 10ft containers - one of which will have the original container doors (S2). To the container with the original door, we would then add a
new wall
. Our focus is always on providing top quality storage boxes which are going to last, and so our new walls are made from 16 gauge matching corrugated steel and fully seam welded to ensure the unit remains watertight.
For the remaining cut down pieces, we
fabricate new doors
, and add new walls where needed to complete the containers.
S2 doors on used 10ft container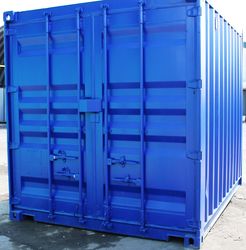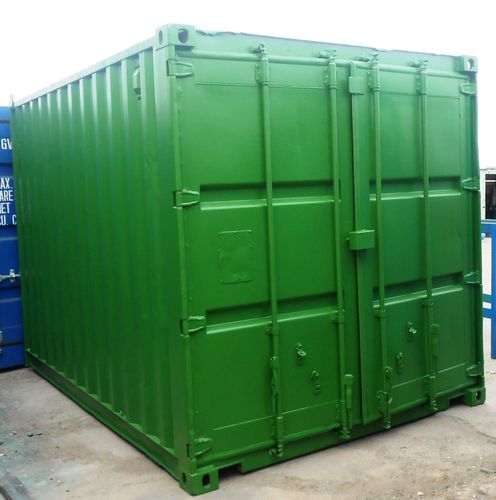 Price of container with S2 doors - £1245 plus VAT
Free with our 10ft used S2 containers
Repainting
The price of all of our 10ft used containers with S2 doors includes exterior re-spraying with our specialist rubberised container paint, in a choice of
standard RAL colour
.
Please note, for non-standard colours e.g. light or bright paint options (white, yellow, red, orange etc.) there is a supplementary charge of £120
Lockbox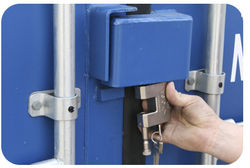 All our 10ft containers come with a steel
lockbox
, which protects the padlock from tampering (usual retail price £55).
Optional Extras
Padlock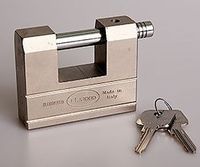 Add one of our specialist
Lock 2000 padlocks
, compatible for use with the lock box, for a discounted price of
£35 plus VAT
Interior repainting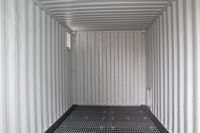 An
interior repaint
can instantly improve the appearance of used containers.
Cost - £155 plus VAT
Ply Lining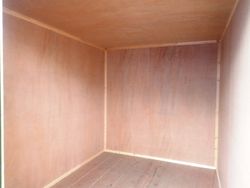 For containers requiring a more constant inside temperature, for instance when storing paperwork, textiles or household furniture, adding a plywood lining with insulating material will protect these items from moisture damage. For more details, read our page on
ply lined containers
Cost to supply and fit a 10ft ply lining - from £650 plus VAT
Cladding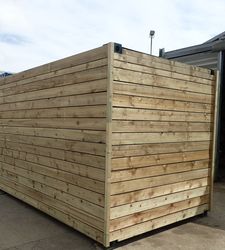 "Disguise" your container with wood cladding. It protects, looks good, and can help with planning permission. Choose from three standard types of wood, or enquire about bespoke finishes. For more details read our page
Cladded Shipping Containers
Cost to clad a 10ft container start from £890 plus VAT
Shelving Racks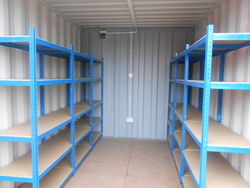 Maximise use of the ALL the space available within your container, including the height! Our multi-purpose
shelving racks
are ideal for creating organised and accessible storage.
Cost per bay (1m/3ft wide) - £60 plus VAT - fitted, OR £45 plus VAT - self fitting
Electrics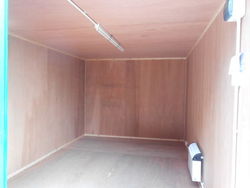 If you require lighting, heating, or sockets for your container, we've got the power! We offer two standard options of
electrical installations
:

Option 1: One external hook up, a consumer unit, a light switch, 5ft strip light with diffuser, a double socket - from £315 plus VAT
Option 2: One external hook up, a consumer unit, a light switch, 5ft strip light with diffuser, two double sockets and wall heater - from £405 plus VAT
Grafotherm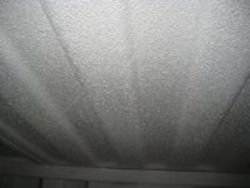 Reduce condensation in your container! All our containers can be treated with
Grafotherm
, a highly effective solution to keep condensation within containers at bay.
Cost to treat a 10ft container - £120 plus VAT
.
Ramps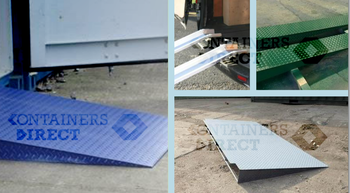 We offer a variety of
ramps for containers
- car ramps. heavy duty ramps, lightweight ramps, hinged ramps and bespoke builds. A range of sizes are also available.
Cost from £205 plus VAT