20ft NEW SHIPPING CONTAINERS
Shipping containers are extremely strong, secure, dependable weatherproof steel units. All new shipping containers are manufactured to ISO standards, which qualifies them as safe and compatible with intermodal transport systems - road, rail and sea. They will be certified to this effect with a CSC plate, which is valid for five years from the date of production. Of course many people will want to buy container purely for storage, and buying new will guarantee maximum use from the container, without risk of defects for the maximum number of years.
Definition of a new shipping container
As all cargo containers are manufactured outside the UK, a new shipping container is defined by the container industry as new if it has had no more than a single journey for delivery to the destination of sale. New containers are often referred to as 'one trip containers', as they are loaded with cargo for the initial voyage, as this makes economical sense and keeps costs down. Therefore some evidence of handling may be present, but the container should remain completely structurally sound.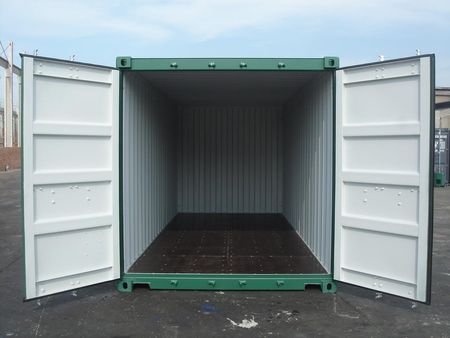 New 20ft shipping containers at Containers Direct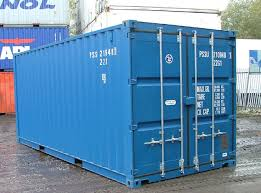 We dispatch
supplies
of these in key strategic locations nationwide, to ensure a cost effective and speedy delivery for our customers. Our major supplier depots are in:
Birmingham, Bristol, Burton upon Trent, Glasgow, Felixstowe, Leeds, Liverpool, London, Manchester and Southampton
.
New 20ft shipping containers for the storage market
Containers Direct provide a number of container accessories to tailor your container to your required purpose. Please specify which options you require when ordering from the following range:
Add an extra door on the opposite end for a handy container that opens both ends
Personnel doors and side doors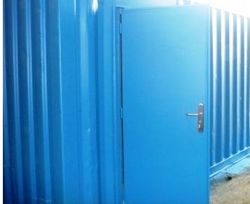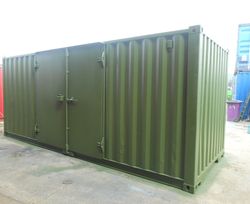 Choose a steel
security door
for pedestrian use, incorporating multi deadlocks and offering high levels of security. Cost per door
£565
If you'd like doors in the side of the container, we also have options available. You can have a
side door
in addition to the existing end door, or as a replacement.
Lockbox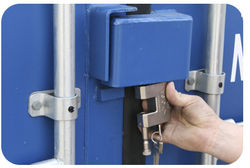 All new containers for storage come with a tamper proof steel lock box with option to purchase top quality container
padlock
(£35)
Optional extras
Exterior Repainting
With durable specialist container paint - blue and green are available as standard, but any colour from the
RAL chart
can be selected if for instance you wish to match your brand/corporate colours.
Cost from £250
Padlock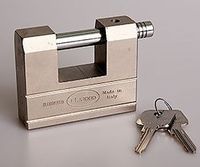 Add one of our specialist
Lock 2000 padlocks
, compatible for use with the lock box, for a discounted price of
£35 plus VAT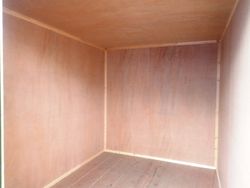 A ply lining combined with rockwool insulation will keep the container at a constant temperature and provide the most resistant measure against condensation.
cost to line 20ft container - from £1050
Cladding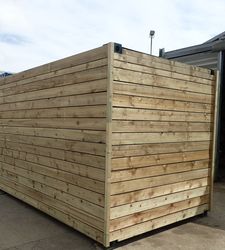 "Disguise" your container with wood cladding. It protects, looks good, and can help with planning permission. Choose from three different types of wood. For more details read our page
Cladded Shipping Containers
Cost to clad a 20ft container start from £1265 plus VAT
Shelving Racks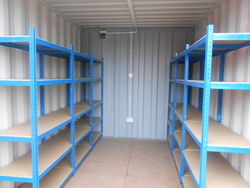 Make best use of all the available space, and keep things tidy and well organised with
shelving
.
Cost per bay (1m/3ft wide) - £60 plus VAT fitted, OR £45 plus VAT self fitted
Electrics
Choose from two
electrical package
options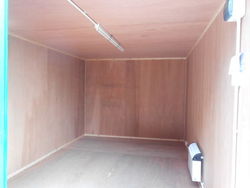 Option 1:
One external hook up, a consumer unit, light switch, 2 x 5ft strip light with diffuser, a double socket - from
£350 plus VAT
Option 2:
One external hook up, a consumer unit, a light switch, two 5ft strip lights with diffusers, two double sockets and wall heater - from
£450 plus VAT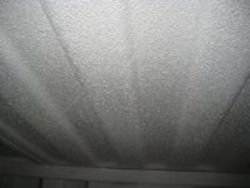 An anti condensation treatment to repel moisture and protect contents from moisture damage
Cost to treat 20ft container - £190 plus VAT
Ramps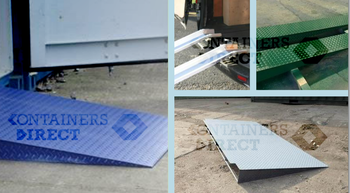 We offer a variety of
ramps for containers
- car ramps. heavy duty ramps, lightweight ramps, hinged ramps and bespoke builds. A range of sizes are also available.
Cost from £205 plus VAT
Full spec shipping containers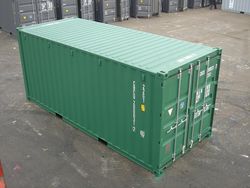 These are new shipping containers manufactured with specific features designed for the storage and domestic transportation market. For more details read our article on
full spec shipping containers
Using new 20fts for conversion projects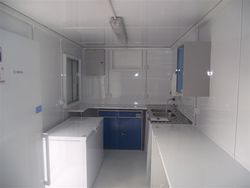 We often use as the basic structure for more complex conversions, such as
boiler houses
,
refrigerated containers
,
chemical stores
and
portable cabins
.
CSC plate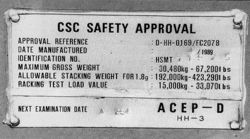 All our new containers are sold with full certification and CSC plate to validate for shipping.
Testimonial
Red Tree Building Contractors ordered a new 20ft shipping container with door seals and locking levers, for their contract with Wythenshawe Hospital. The container was lined, insulated and repainted, electrics installed, and we delivered and positioned the container directly to the hospital site.
Thomas Eccles from Red Tree had this to say:
"Thanks! It was a more complicated off load than dropping it on the side of the road. The driver did a good job and the hospital were happy, so all good."
Lancashire Logistics Ltd purchased two new blue 20ft containers from us, and were very happy with our overall level of service:
"I would recommend you - great service"
- P. Calow