20ft SHIPPING CONTAINER FOR SALE
The
20ft shipping container
is one of our most popular products at Containers Direct. It's economical, hard-wearing and can be used for storage as well as shipping. Standard 20ft shipping containers are also known as ISO shipping containers; they are used to transport cargo overseas and therefore have to conform to ISO regulations. This means that all ISO containers are 8ft wide, either 8ft6 or 9ft6 high, and 20ft or
40ft
in length. However, at Containers Direct, we understand that often these containers are used for storage, and so we offer a range of modifications designed to take make these containers the perfect storage unit.
New or used shipping container?
This can be a tough decision, one that will also depend on your budget and your aesthetic preference.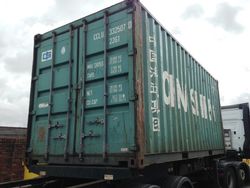 20ft Used Containers
are a popular choice for people who want the security of a shipping container but are working with a smaller budget. These units can be anywhere from 10 to 15 years old, will have travelled the world transporting cargo, and then have been off-hired by the shipping lines. Used containers can vary in terms of cosmetic appearance, which is why we offer a
repainting service
to cover any cosmetic damage and wear and tear. Rest assured, our used 20ft shipping containers for sale will all have been checked to ensure they are still structurally sound and watertight before they are released. These units retail at £1450.00 plus VAT for a standard container.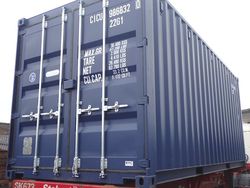 Once-used 20ft containers
have only been used once, and are considered new in the container industry. To keep costs down, they are loaded with cargo in the country of origin and then shipped to the UK, where they are immediately off-hired. In terms of appearance they are much better than their used counterparts however, as they have had one trip to transport them here, they may have a few slight dents or scrapes. Price for a standard 20ft once-used container is £1995.00 plus VAT.
Modified 20ft shipping containers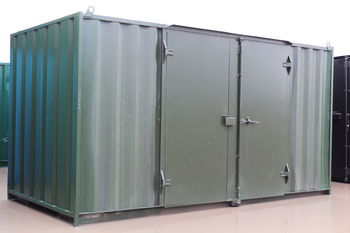 Many of our 20ft shipping containers for sale are put to use as a
storage container
, where they are either sold as they come, or modified to produce storage containers of different sizes. For example, a 20ft shipping container can be made into two smaller
10ft sized containers
. This procedure involves making new doors and gives the customer the option of having these fitted in the long side of the container if required - or you can have both if you need extra doors! Find out more about our
side door containers
.
In addition to a range of sizes, we also modify containers to give you a
choice of four door types
as standard, adapted to suit purpose.
Free with 20ft containers
Lockbox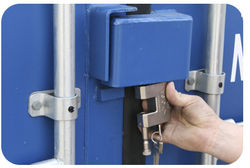 All doors on our 20ft FG containers are fitted with a
lockbox
, at no extra cost. The lockbox fits snugly around the container lock to prevent unauthorised access.
Customise your container
We offer a full range of
customisation options
to enhance your 20ft container. Whether it's for practical purposes, or to make it look good, you'll find it here. Some of our customer favourites include
ply lining
,
cladding
,
electrical package
and
ramps for containers
. If there's anything else you feel your container or conversion product needs, then please enquire.
Unbeatable quality and value
Shipping containers are basically a metal box, made from
Corten steel
which makes them waterproof, extremely hard-wearing, very difficult to damage or break into and superb value for money. The price of shipping containers has been driven down by the decline of the manufacturing industry in the UK, meaning more containers arrive in the country carrying imported goods than are needed to leave the UK carrying exported goods. This means we have a good supply for resale, and we can offer the 20ft shipping container for sale at a great price too.
Testimonial
Gary Simpson from Knowles Uk Ltd purchased a 20ft container, treated with Grafotherm and repainted green. He was very impressed with our customer service!

"It all came across as very efficient and customer centric. Very good service, great product. Well managed from initial contact, right through to an excellent delivery driver. Definitely use these guys again."