40ft High Cube Containers
High cube containers can be used for all types of general cargo. However, they are particularly suitable for transporting lighter, voluminous cargoes and over height cargoes up to a maximum of 2.70 m tall. We can supply both
new 40ft high cube containers
and
used 40ft high cube containers
containers.
Think big!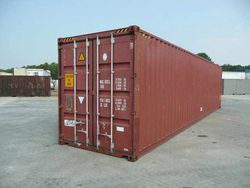 40ft high cube containers are the largest product we sell, so if you have a very large load to ship, or store, this is the one. High cube containers are unique as they have an extra foot of height over ordinary shipping containers, standing at 9ft 6inches tall. In all other aspects they are identical to the standard 40ft shipping container, at 40ft long, 8ft wide, watertight, and exceptionally strong and secure. They are made from corten steel, which is able to withstand great strain, and is also waterproof and rust proof.
Choose 40ft high cube containers for home removals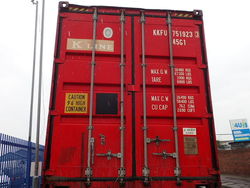 High cubes are a popular choice for overseas home removals. The extra height means you can usually get a house load into one 40ft container instead of needing two. This cuts down on costs and is more convenient.
Ideal for storing plant machinery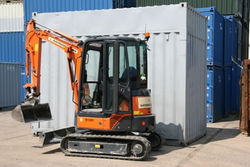 High cube containers make the perfect store for plant machinery, as the extra height can accommodate taller equipment such as diggers.
This example of a
used 40ft high cube
is in sound condition and ideal for use as a long lasting storage unit. It comes with the Containers Direct 12 month warranty that it is windproof, watertight and rust proof.
Testimonial
Seminar Components purchased a 40ft high cube container, with a ramp, from us.

"Service and communication was excellent from start to finish. I would definitely buy another container from you again - Robert Dooley"