45ft Long High Cube Container
The 45ft high cube is the big daddy of containers - the very largest size you can buy. It not only offers an extra 5ft in length over the next largest common
40ft shipping container
, but also an additional foot in height. They are also "pallet wide", meaning the internal width allows for two standard 4ft pallets to be accommodated in the container side by side. However, these
shipping containers
are not commonly available and are hard to come by in the second hand market, where value for money is usually better.
45ft high cube container sales at Containers Direct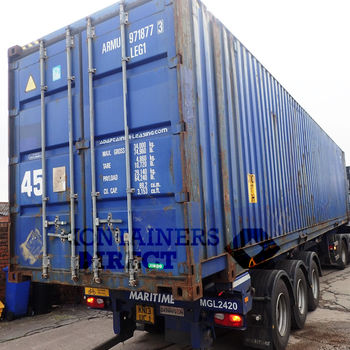 Fortunately Containers Direct are able to supply these containers readily to our customers by special order, direct from Holland. Transported using UK cabotage regulations, delivery rates for our customers can be kept at the same rate as standard UK deliveries. With just a three week lead time from order to delivery, this is a rare, and exclusive opportunity, only available from Containers Direct.
45ft long high cube container
Features of our 45ft long containers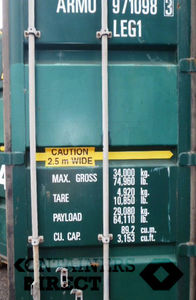 Good condition/cargo worthy


Extra length


Extra height


Pallet wide (internal width 8ft)


CSC plated for shipping


30 tonnes tested


Advantages of using a 45ft high cube container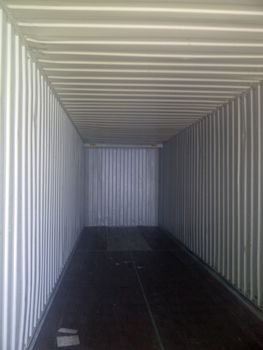 An extra 315 cubic feet loading capacity compared to the 40ft high cube shipping container


Increased loading capacity means increased efficiency for transportation, and therefore lower costs - why pay more to send two containers when you can do it in one! (Max weight load is similar to that of the 40ft high cube container, therefore the 45ft high cube container is most efficiently used when transporting voluminous lighter cargo)


Used as a site store it can securely accommodate tall plant machinery (i.e. diggers)


For Shipping or Storage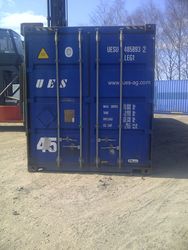 Shipping
- these containers hold a CSC plate, so are all ready for export
Storage
- As with all our
containers sold for storage
, we offer a range of optional extras. Full details below:
OPTIONAL EXTRAS
Lockbox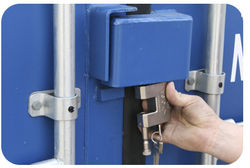 Enhance the security of your container with a steel
lockbox
- this prevents unauthorised access to the container padlock, and can be purchased at a cost of
£50 plus VAT
Padlock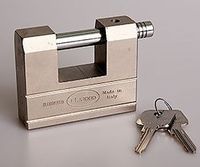 Add one of our specialist
Lock 2000 padlocks
, compatible for use with the lock box, for a discounted price of
£35 plus VAT
Repainting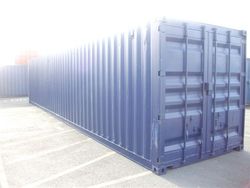 A new exterior coat of rubberised container paint will not only enhance the cosmetic appearance of your container, but also protects from wear and tear and can extend the life of the container. Select from a wide range of
colour
.
Please note for very light or bright paint options (ie white, yellow, red, orange) there is a supplementary charge of 75% over standard repainting rates
Ply Lining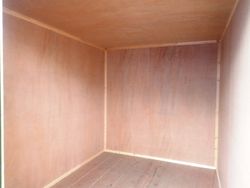 Lining and insulating containers with plywood and rockwall insulating material will give complete protection against the adverse effects of condensation. Read more on our page on
ply lined shipping containers
Cladding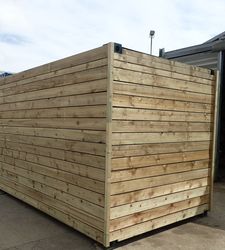 "Disguise" your container with wood cladding. It protects, looks good, and can help with planning permission. Choose from three different types of wood. For more details read our page
Cladded Shipping Containers
Shelving Racks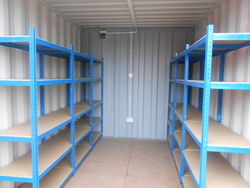 Fit your container out with
shelving
to make your stored goods more accessible and better organised.
Cost per bay (1m/3ft wide) - £60 plus VAT fitted, OR £45 plus VAT self fitted
Electrics
Choices of
electrical installations
: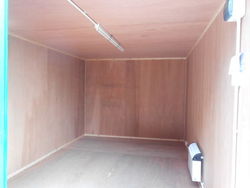 Option 1:
One external hook up, a consumer unit, a light switch, 4 x 5ft strip light with diffuser, a double socket
Option 2:
One external hook up, a consumer unit, a light switch, 4 x 5ft strip lights with diffusers, two double sockets and wall heater
Anti condensation treatment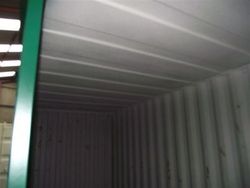 Using
Grafotherm
spray coating on the ceiling of the container - this product prevents damage caused by condensation build up that can drip onto the contents of the container.
Ramps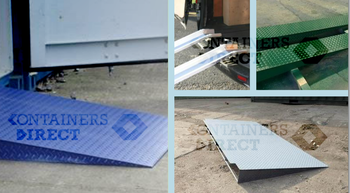 We offer a variety of
ramps for shipping containers
- car ramps. heavy duty ramps, lightweight ramps, hinged ramps and bespoke builds. A range of sizes are also available.
.