OFFSHORE CONTAINERS
We often get asked what's the difference between standard shipping containers (ISO) and offshore containers (DNV). To begin with, they are built for different purposes. Standard shipping containers are designed and manufactured specifically for cargo transport across seas. Therefore they are certified to conform to international standards, to ensure compatibility with dock handling equipment and stacking on cargo ships.
What is an offshore container?
Offshore containers are made for repeated use in the off shore industry, to transport equipment and supplies and be handled in open seas to and from (sometimes between) fixed and floating installations and ships. For instance, the oil industry and associated drilling sites rely upon offshore containers for safe transportation, protective storage and handling at sea.
Built to withstand the demands of continuous life at sea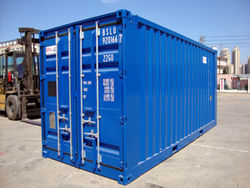 Handling containers at sea means they have much greater demands place upon them, so they must be much tougher and more durable to withstand the harsh conditions of an offshore environment. To cope with these demands offshore containers are:


Made of thicker materials


Made entirely from metal (carbon steel, manganese steel, wrought alloy aluminium)


Are able to withstand temperatures of -20C


Subject to regular and rigorous inspection to ensure strict standards are maintained


Specialist lifting requirements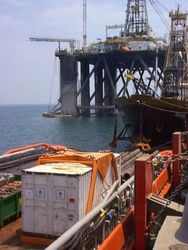 The lifting equipment required to handle containers at sea is also very different from the equipment used to load and unload a docked container, therefore the integral handling and lifting structures of a DNV container are unique as they have to maintain stability while subject to dynamic loading and the rough handling that occurs from being snatched by installation cranes. The lifting sets on offshore containers are subject to specific European Standards too:


An offshore container must have a have an outer framework with pad eyes at the top


Be designed to allow loading and unloading in significant wave heights up to 6 m


Must be able to withstand 30? tilt without tipping


The lifting set is considered part of the container and must NOT be removed


Purchasing offshore containers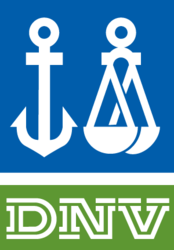 If you are considering purchasing an offshore container, it's important to be aware of the regulations and strict standards they must adhere to, which are much more stringent than for standard marine containers.. Always check before purchase that the container you choose is made to the current DNV standards. For further information call us to discuss your requirements and size options on 0800 061 2575