Refrigerated Containers
The basics
Refrigerated containers - also known as
reefers
- are
ISO shipping containers
with an integral refrigeration unit, which allows for the transportation of temperature sensitive cargo. ISO containers are built to extremely high standards to be robust and endure the demands of transportation by road, rail and sea. They rely on a power from a land based site, but can be powered in transit by a diesel powered generator which attaches to the container. Refrigerated containers can be used for either storage or shipping.
Common uses of refrigerated containers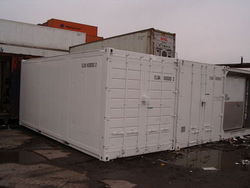 Storage/ transportation of perishable goods ie, food, drink, flowers


Storage/transportation for the meat trade


Storage/transportation for the catering industry


To reduce the hazards of storing/transporting temperature sensitive chemicals
Specifications of refrigerated containers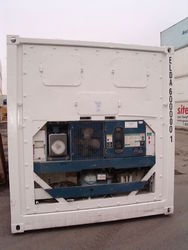 Temperature range of +25C to -25C


Runs on environmentally friendly refrigerant gas


Hygienic , easy to clean stainless steel interior to conform to food hygiene standards


Internal lighting


Built in panic alarm


Double locking end doors with secure locking bars and optional anti-tamper lock box
Refrigerated container sizes and available modifications
We can provide refrigerated units in standard shipping container sizes of
20ft
or
40ft
in length by 8ft wide and 8ft 6in high. Please enquire if you require an alternative size, as we specialise in providing
cut down containers
. We can also modify refrigerated containers to your specific cold storage needs - ie side doors, additional doors, repainting.