SEA CONTAINERS
Sea containers come in a multitude of types and sizes, and can be used for many purposes. It can be confusing deciding which is the right container to buy when faced with a host of different names - freight containers, shipping containers, storage containers, converted containers, ISO containers.....and so on.
To make the process of choosing a container a little easier, and to simplify the list, it's worth knowing these are all containers originally designed and manufactured for the purpose of carrying cargo overseas, therefore share the same basic structure. They are all made from very strong, rust proof steel, known as corten, are watertight and stackable, and can bear extremely heavy loads.
What's the difference between containers for shipping and containers for storage?
Whether you are buying a container to ship goods overseas, or for dry land storage, it will be a sea container. However, it is essential to distinguish between containers suitable for shipping and containers suitable for storage in order to avoid a costly mistake.
Sea containers for shipping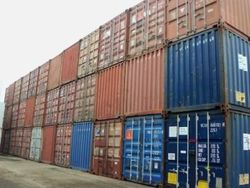 Containers purchased for shipping are subject to much more stringent standards - they need to be
ISO
certified as seaworthy, which means they must be in good condition to withstand the rigours of overseas transportation and stacking, and not have been modified in any way, as this will invalidate the certification. So be sure to check any container purchased for export has the correct certification, or it will be refused on board by container shipping lines. It is essential the container holds a CSC plate to prove it is seaworthy.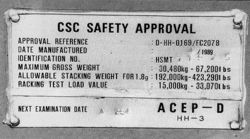 Sea containers for storage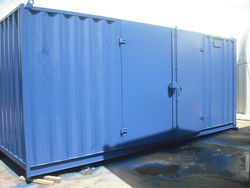 Containers used for storage only need to be watertight and in good enough condition to do the job you require. If you are only looking to spend the minimum on a dry and lockable containers to keep your goods stored and out of harm's way, it's pointless spending a lot of money on a cargoworthy, CSC plated container that's certified for export when you're never going to ship it. Often containers are modified to make for more convenient use as a storage container. Modifications include


Resizing - sea containers can be cut down to virtually any required length


New doors - the heavy doors on a sea container will often be discarded in favour of lighter doors better suited to frequent use


Repositioned doors - doors can be moved to the side of the container for easier access


Extra doors - depending upon the size of the container, a number for additional doors can be fitted


Sea containers available from Containers Direct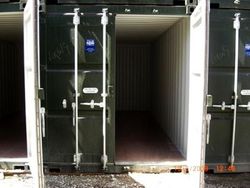 We hold in stock a wide variety of containers for both shipping and storage, new and used in many sizes. Our CSC plated containers come in standard sizes of
20ft
and
40ft
and are held at our regional supplier depots across the country to give our customers the best value delivery rates.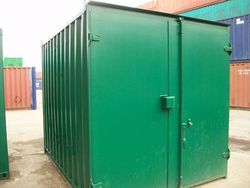 Our containers for storage are available in lengths between 8ft and 40ft, with a choice from
three different door types
. Optional extras are available with all containers for storage, including additional doors, repainting, anti condensation treatment and a lock box.