Chemical Store Shipping Containers
With an ever increasing focus on environmental issues these days, Containers Direct have an increased demand for secure and compliant chemical stores. Guidelines from the Environmental Agency and HSE (Health and Safety Executive) state that all hazardous substances such as chemicals, flammables, fertilizers and pesticides must be stored to safeguard the welfare of people, animals and the environment. Regulations have become tighter and are being more stringently implemented, and the responsibility is now upon the employer to do a COSHH assessment of materials to be stored.
Choosing the right chemical store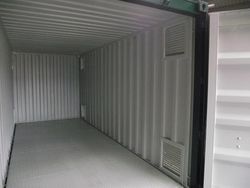 If this sounds a little overwhelming, a chemical container store from Containers Direct is the perfect solution. In response to these regulations we have recently created a specialist fabrication department, dedicated to the construction of chemical stores. This allows us to work to your own risk assessment and applicable regulations to provide you with the perfect chemical container store for your hazardous substances.
Please note we are not qualified to provide HSE/COSHH guidance. Although our Chemical Stores meet most of our customers' requirements, we would advise checking with your HSE officer before purchase if you have any concerns.
Bunded chemical stores
Containers Direct can fabricate any length, from
10ft shipping containers
,
20ft shipping containers
, right up to
40ft shipping containers
, to fit our clients' individual requirements, from either new or used shipping containers. All chemical stores need to be bunded, which basically means sealing the container so liquid does not escape. There are different means of doing this, depending upon the level of safety standards you're required to meet. To reflect this, we have designed two different types of container conversions to chose from, plus a third option of a flat pack product.
All options can be fabricated from either new or used containers.
Option 1 - The Kite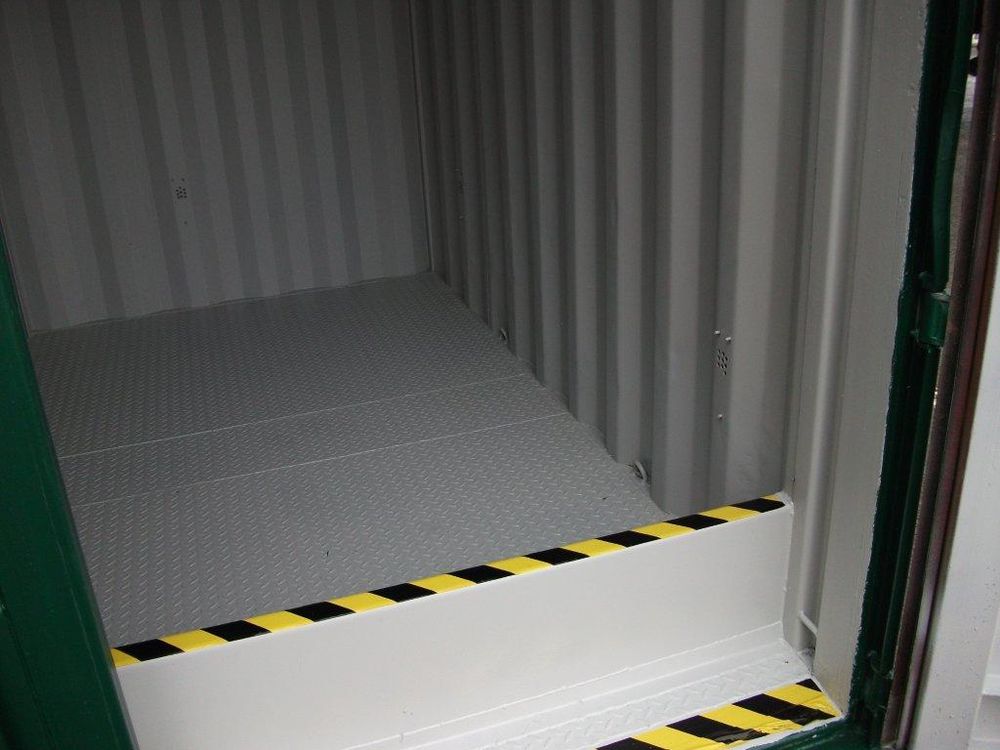 Shipping containers are manufactured with marine ply floors which are porous, so the first step in the process of converting them for chemical storage is overlaying the floor with a steel plate and 6 inch return lip to contain any spillages that may occur. The
Kite
is fitted with a Durbar plate is designed with a raised pattern surface, making it slip-resistant and self draining, which also makes it easier to clean, thereby reducing the risk of corrosion and extending the life of the container.
Features:
Available lengths: 10ft, 15ft, 20ft, 30ft, 40ft x 8ft wide


Double doors to one end with lockbox


Min of 2 x ISO shipping vents


3mm steel durbar overlay with 6in returning lip


Repainted in standard RAL colour
THE KITE
Option 2 - The Hawk
Standard option: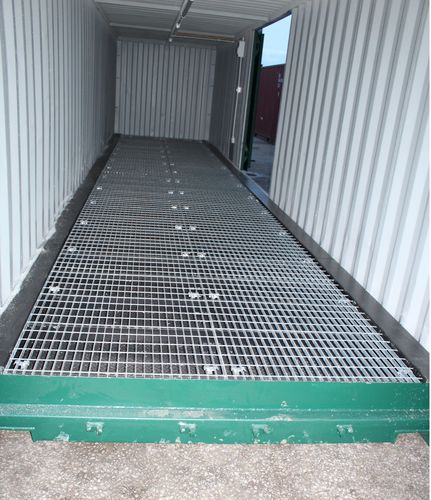 Available lengths: 10ft, 15ft, 20ft, 30ft, 40ft x 8ft wide


Double doors to one end with lockbox


Min of 2 x ISO shipping vents


Existing floor overlaid with steel plates


Steel bearers welded to floor


Removable grate floor laid on top of bearers providing full 6inch deep sump


Repainted in standard RAL colour
NB. This option means you will step up 6 inches into your container reducing internal height.
THE HAWK
Option 3 - The Falcon
Features
Available lengths: 10ft, 15ft, 20ft, 30ft, 40ft x 8ft wide


Double doors to one end with lockbox


4 x 500mm square louvered vents


Sunken bunded base


Choice of a removable grate or durbar floor with gapped edge


2 x drainage valves


Repainted in standard RAL colour
The Floor
Instead of using a lip, which can make it difficult to lift heavy goods into the container, we completely re-fabricate the floor of the container by removing it, and fitting a sumped base below, which allows spilt liquids to drain through, and be carried away by means of fitted valves.
This is done by removing the timber floor, flipping it on its side and welding a steel floor to the underside. A metal structure is then created and welded to the existing cross members, upon which the new floor can be attached. The new steel is primed, and ready for the new floor to be fitted.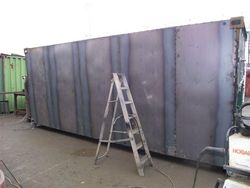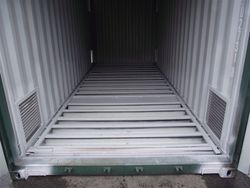 A Durbar floor is welded to the new steel framework leaving a gap around the edge to enable spillages to be collected in the newly created sump and the interior is painted. Alternatively, we can fit a removable drainage grate to overlay the floor.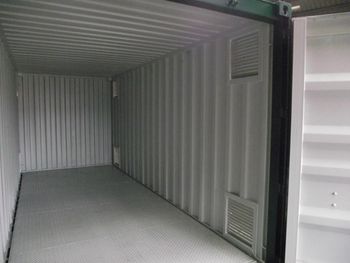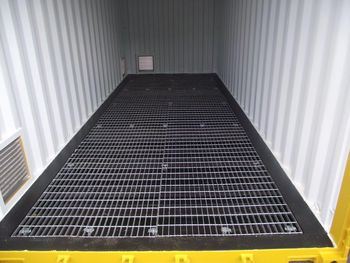 Finally we attached drainage valves to the bottom rail to enable the sump to be emptied (these valves are removable).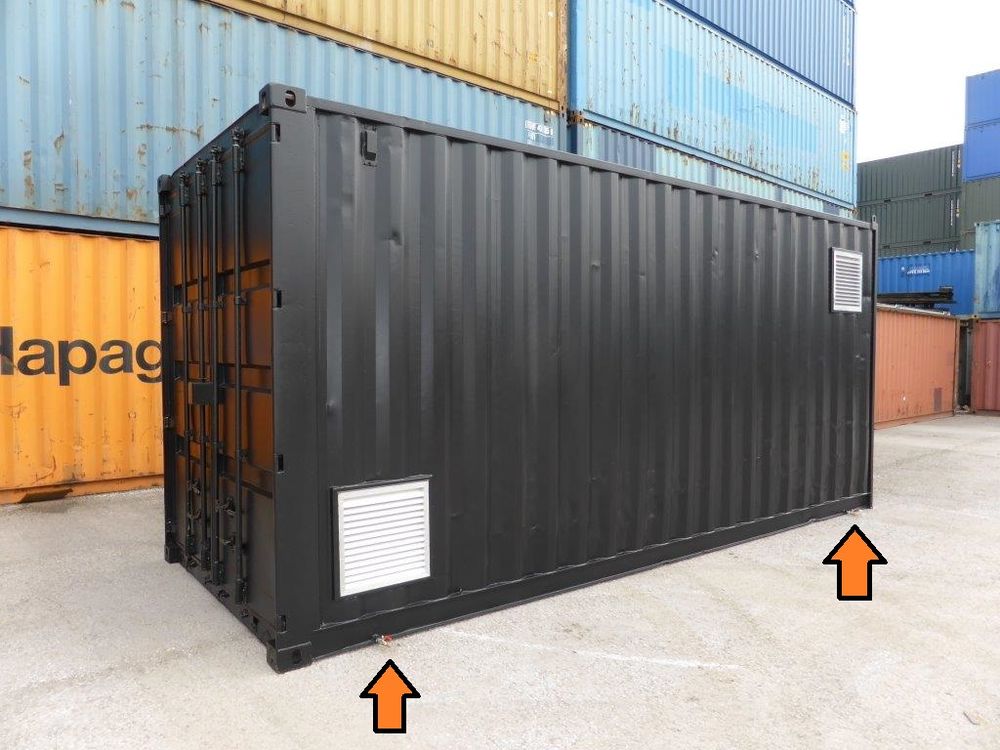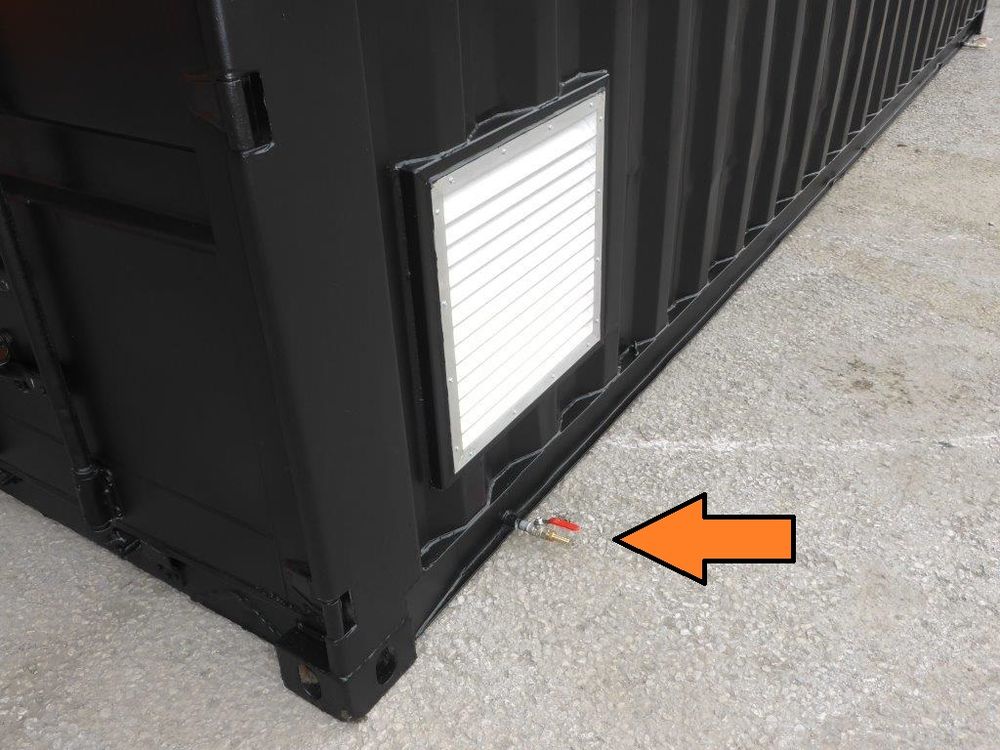 The Vents
We then create apertures in the side and attach vents.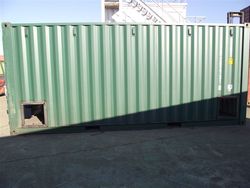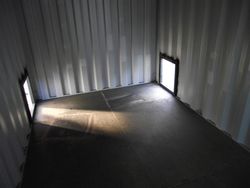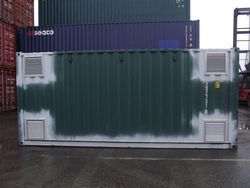 The container is now ready for painting in a
choice of colour
.
Shelving
can be included as an optional extra.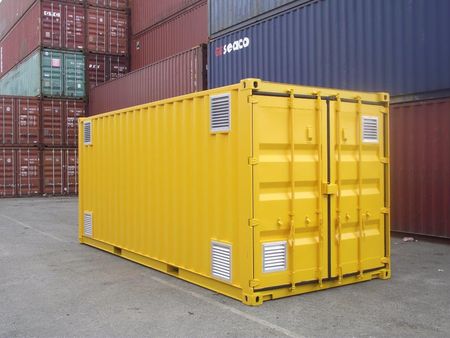 Optional Extras: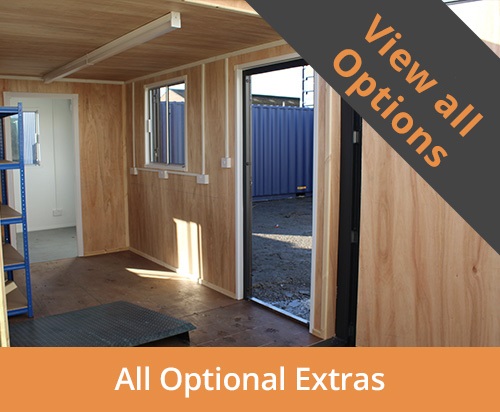 These can be added to enhance the performance of your chemical stores. Recommended extras include:
Louvered vents - these reduce the temperature within the container, and allow any build up of toxic fumes to escape. (these are included on the Falcon model)


Shelving - please note our standard shelving option is unsuitable for use on the removable grate flooring of the Hawk and Falcon. Please enquire with our sales team for suitable alternatives.


Drainage valves (these are included on the Falcon model)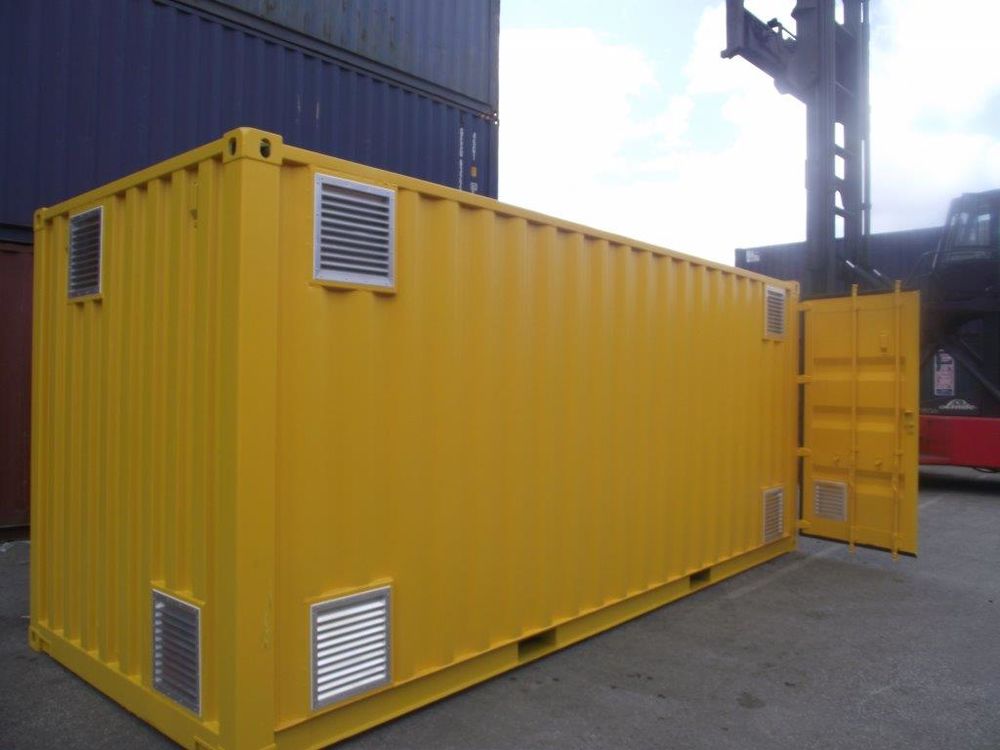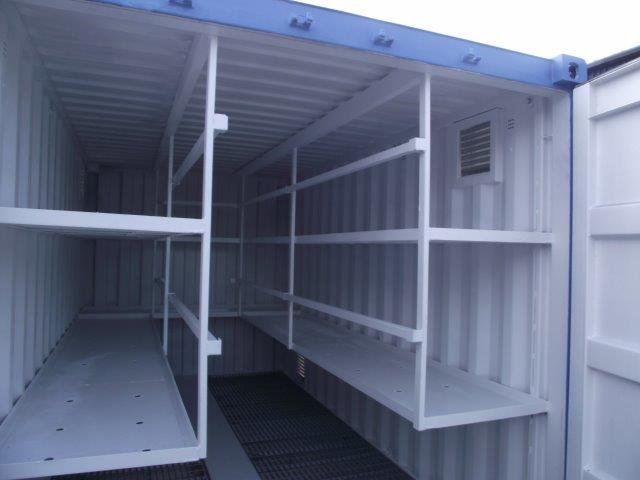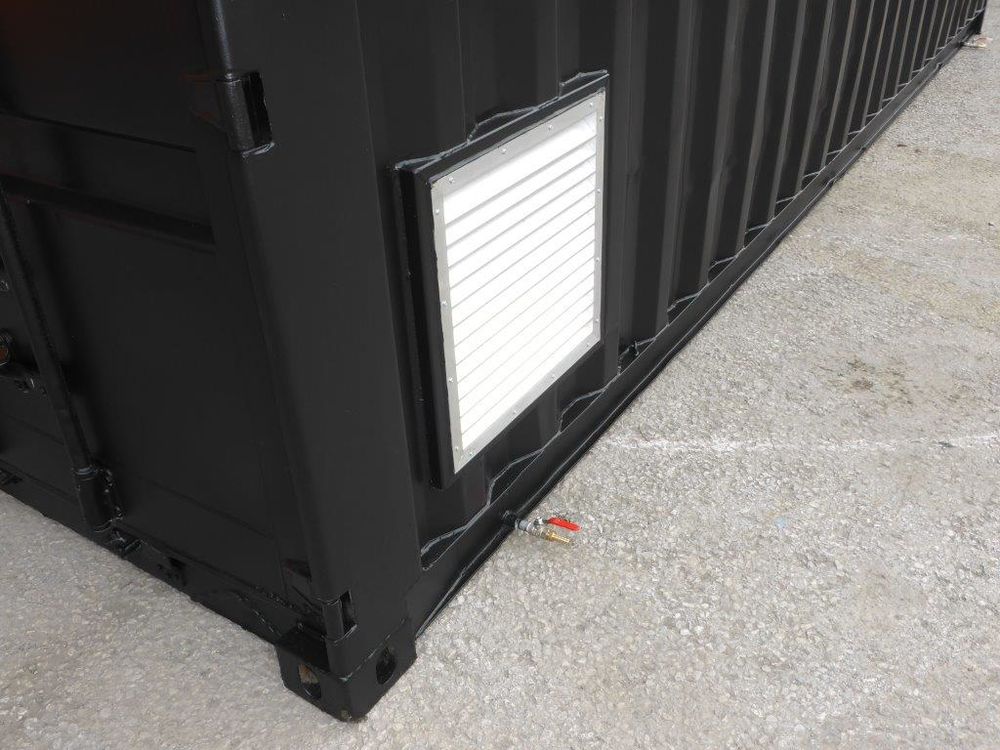 Option 4 - Flat pack chemical stores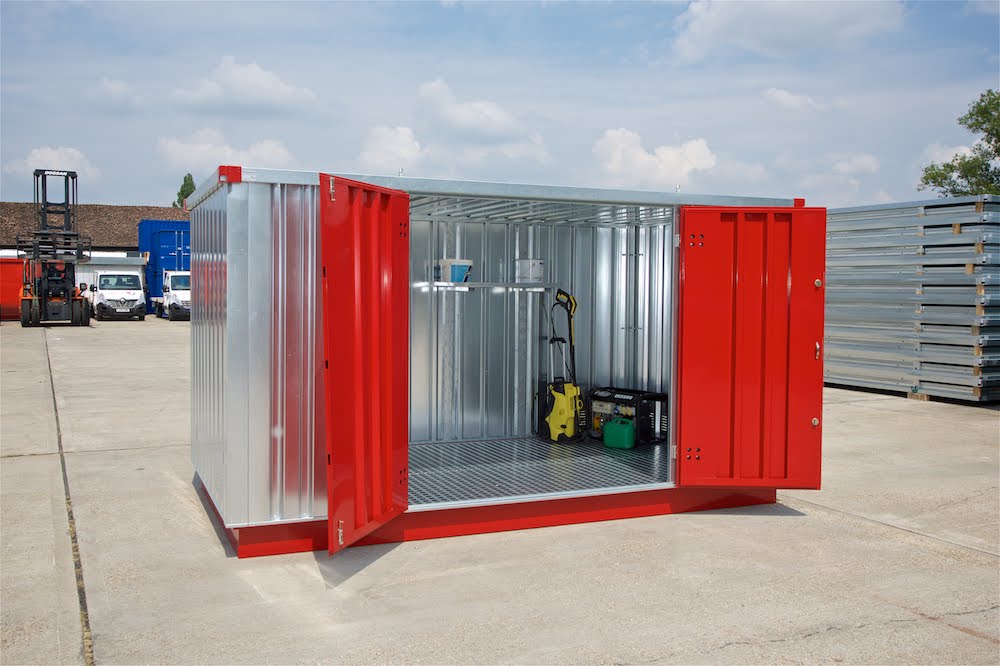 Easy to assemble, can be delivered to awkward areas and includes all the safety features of a standard chemical container. For more details see our page on
flat pack chemical stores
.
Testimonials
We provided our client with a 10ft used chemical store, with sunken bunded floor, overlayed with a Durbar plate floor, drainage valves, air transfer grilles, solar powered lighting and repainted.

"Generally of all the companies who quoted for this job, you were the best, that's why you were chosen, along with the ability to fulfill everything we needed for our container requirements."

From A. Moxon, Eaton-Martek Power Ltd


We provided our client with a 10ft New 'once-used' container converted into a Kite Chemical Store, with exterior repaint in green, a bunded steel durbar floor with 6 inch returning lip, shipping vents and additional shelving.

"A very easy process from start to finish."

From Wallace Greenwood & Sons Ltd

1 Available Products