Shipping Container Conversions

15ft + 2 x 20ft side doors, ply lined

CS25611

Call For Delivery Costs: 0800 061 2575
CD Code
CS25611
Features
Design
Our client, Management and Construction Services Ltd, requested a total of three used shipping containers - 1 x15ft and 2 x 20ft - all to be converted in the same way, with the following features:


No end doors


3ft wide set of doors positioned in the side of each container


Ply lined and insulated


Bottom 4ft of all the containers painted with bitumen


All containers repainted in Basalt Grey


Lockboxes
Step 1 - New end walls
Our client has requested side doors, in favour of end doors, which means our first task after cutting the containers to the required size, is to replace the end doors with new end walls. For detailed steps to this process, see our article
Shipping Container Wall Build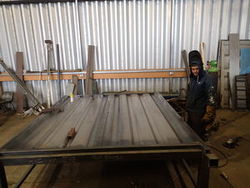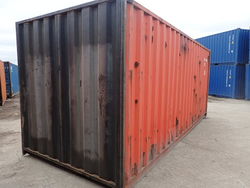 Step 2 - New side doors
The side doors are made from flat steel panels, which makes them easier to use than traditional shipping container doors, and at 3ft wide per door (total door width of 6ft), they are slightly narrower than standard 4ft wide container doors. The pictures below show us fitting the doors into the 15ft and the 20ft containers.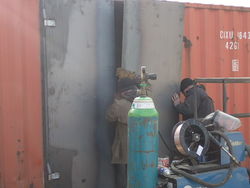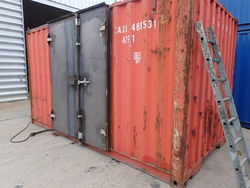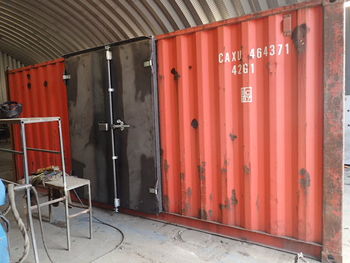 Step 3 - Ply lining
The inside of the containers, including the doors, are ply lined and insulated with 12mm ply and rockwool. For more on this process, see our article
Ply Lined Containers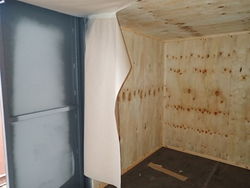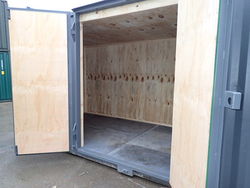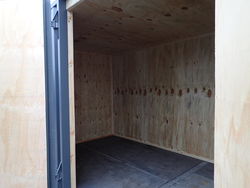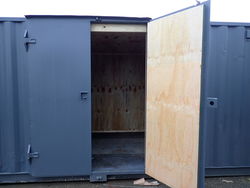 Step 4 - Repainting
As these containers are to be kept against a river bank, we had the unusual request of painting the bottom 4ft of each container with bitumen. For the remaining sections of the containers, we used standard container paint, in Basalt Grey.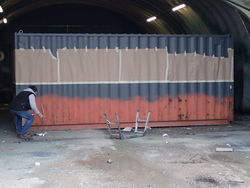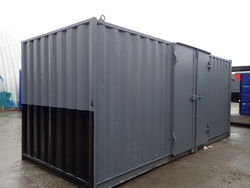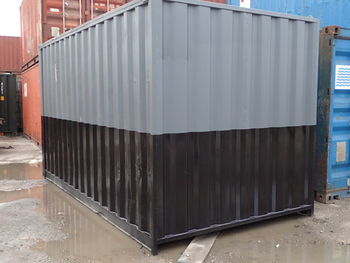 The CAD
All our conversion projects begin by producing a CAD in conjunction with our client, to ensure a precise understanding of requirements. We drew one up for the 15ft container, and one for the 20fts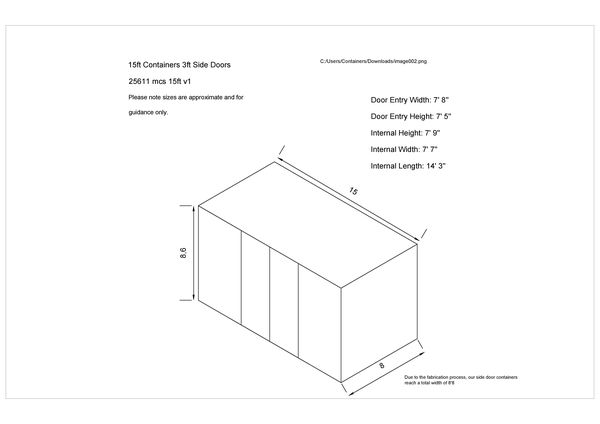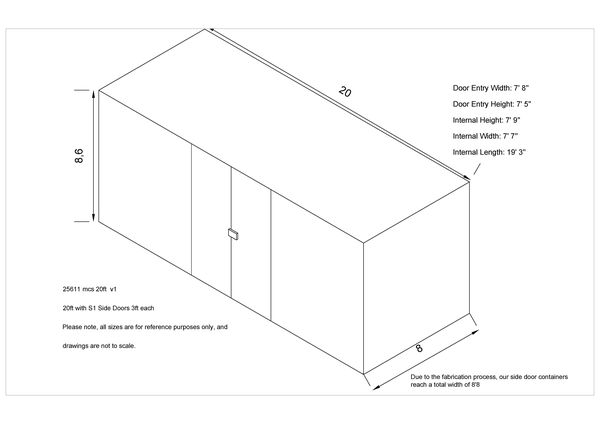 As with any product, specification is subject to change without prior notification. You are advised to confirm current specification before buying.