SHIPPING CONTAINERS

20ft Falcon Chemical Store

CSF01

Call For Delivery Costs: 0800 061 2575
CD Code
CSF01
Features
Design
Features of the Falcon


Reinforced steel floor


Sumped base


Removable drainage grate


Drainage valves


Large louvered vents
Making the Falcon
Step 1 - The sumped base
One of the requirements of a
chemical store
is that it must be bunded - meaning it can safely contain any leaks or spillages. The Falcon does this using a sumped base with drainage grate, and the inclusion of drainage values, to enable the sump to be emptied safely.
The first part of this process, is to flip the container on its side, in order to remove the timber floor and replace this with a steel floor welded to the underside.
After the container is the right way up again, we create a steel structure and weld this to the existing cross members of the floor, upon which we can attach the new floor, leaving a sump between.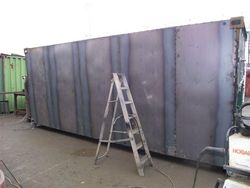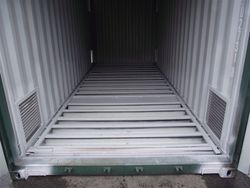 Step 2 - The floor
When this stage is complete we offer two choices of floor - a Durbar anti slip plate, or a drainage grate. With the first option, we leave a gap around the edges to enable spillages to be collected in the sump.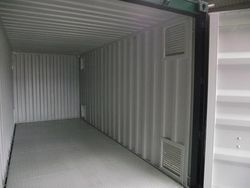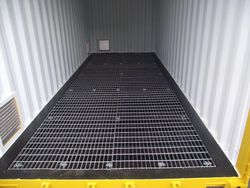 Step 3 - The drainage valves
To finish the floor, we fit removable valves to the bottom rail of the container, to enable the sump to be emptied.

Step 4 - The louvre vents
Large vents reduce the temperature within the container, and allow any build up of toxic fumes to escape. We cut apertures into the walls of the container, fit a steel frame, to which the vents can be attached. For more information see our page
Shipping Container Vents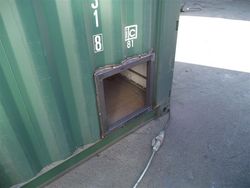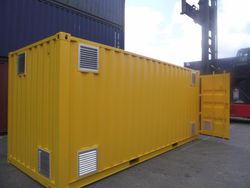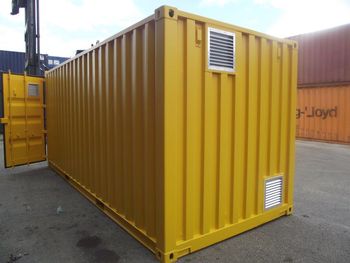 The finished Falcon
Our client requested a repaint in yellow, but we can repaint to any
colour
. We also offer shelving as an optional extra.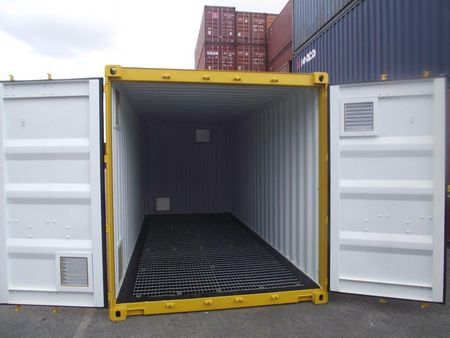 As with any product, specification is subject to change without prior notification. You are advised to confirm current specification before buying.