Shipping Container Conversions

15ft workshop

CS33460

Call For Delivery Costs: 0800 061 2575

This case study shows a container workshop converted for a carpenter/joiner, which will be located in their own back garden, and used to pursue their craft as a hobby. Our client intends to fit the workshop out with a workbench, storage units and hooks, for a fully functional carpentry workshop.
CD Code
CS33460
Features
Design
Special features
2 anti-vandal windows


Steel personnel door


Ply lined and insulated with 12mm redwood finish


Access hole for electrical cable


Repainted green
Door and windows
The original shipping container end doors are retained, but an additional personnel door is located in the long side of the container.
First we have to make the framework for the personnel door and two windows, and then cut the correct sized apertures into the side of the container, where these are to be located. The frames are then welded into the apertures. When this is complete we can attach the windows and door.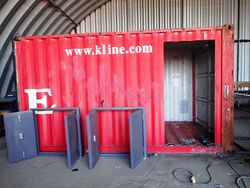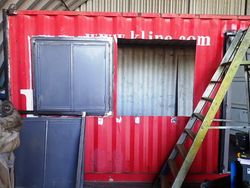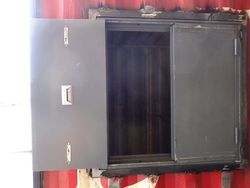 The windows are positioned so the shutters overlap, but do not obscure the glazing. It's essential that as much natural light is let in as possible. Positioned next to the windows, the personnel door is right hand opening, clear of the shuttered windows.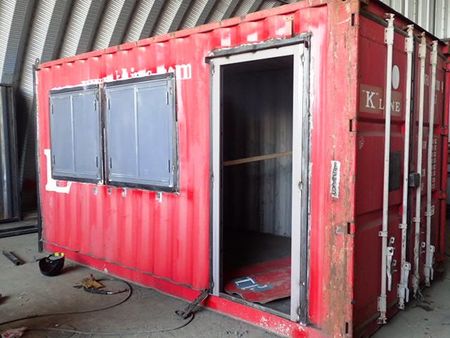 Ply lining and insulation
The inside of the container, including the original doors, is insulated with rockwool, and overlaid with 12mm thick, redwood finish ply. This finish gives a more professional looking result, and a more pleasant working environment, but is also strong enough for our client to use for hanging tools etc to the walls. The insulation will also cut down on electricity costs, by keeping the container warm, and stopping the formation of condensation which could potentially cause damage to tools and equipment and stored wood.
For a step by step guide to lining containers, see our article on
Ply Lined Containers
.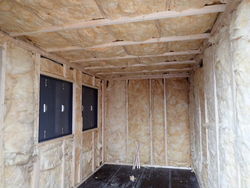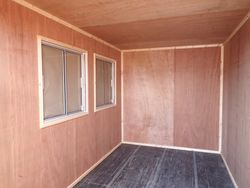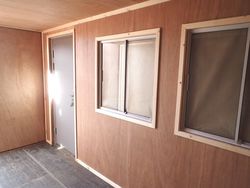 Repainted
The new office unit is painted green externally with rubberised container paint.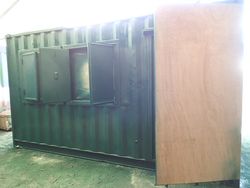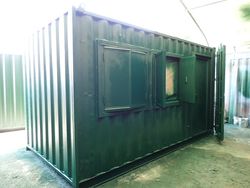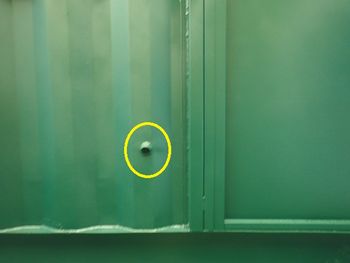 Cable aperture
This is welded at a slight downwards angle, preventing water ingress. Our client is using this to run electricity cable through, which will be wired up to their own house supply.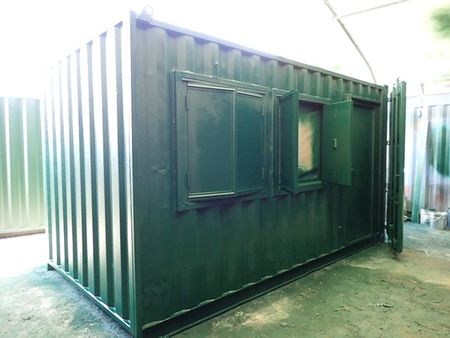 The CAD drawings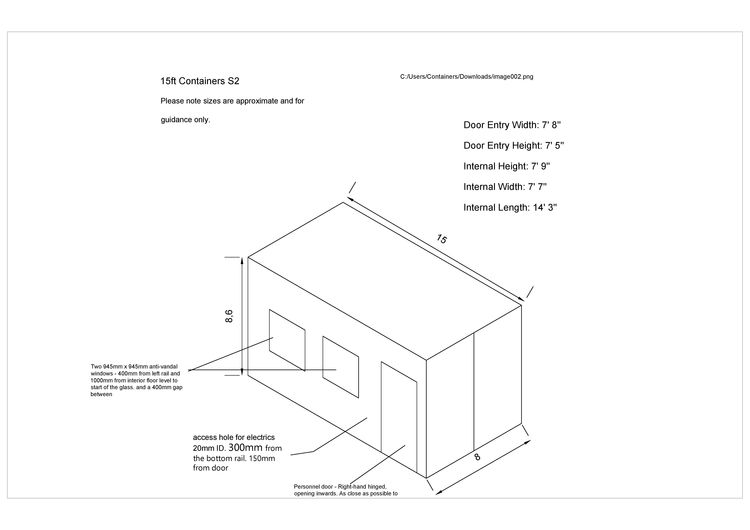 As with any product, specification is subject to change without prior notification. You are advised to confirm current specification before buying.