Second Hand 25ft Shipping Containers
Our 25ft used shipping containers bridge the gap between standard sized 20ft and 40ft shipping containers for sale. They can be used as storage containers, giving you a little bit extra space over the more common 20ft size, without having to upgrade to the much larger 30ft or 40ft, or they can be used as the building block to convert into offices, workshops, catering units and much more. The vast majority of new ISO shipping containers are manufactured to standard lengths of 20ft or 40ft, 8ft wide and 8ft6 high. This doesn't leave a lot of choice, so by fabricating unique size containers in our workshops, Containers Direct can offer our customers any length required. Retailing at just £50 more than their 20ft counterpart they represent excellent value for money and delivery prices for a 25ft are the same as for a 20ft so if you have the space, upgrading to a 25ft used shipping container makes perfect sense. You may also upgrade to a new 25ft shipping container for better condition. In line with all of our range of storage containers for sale we offer the 25ft with our unique choice of four door designs which you can explore below.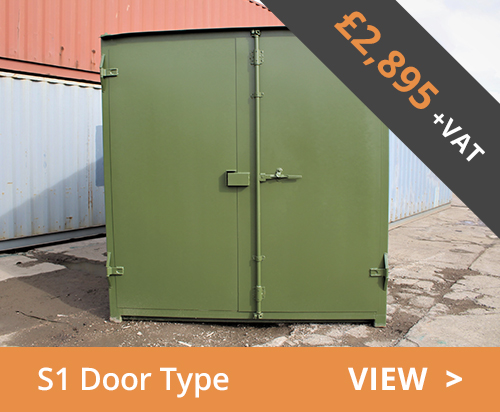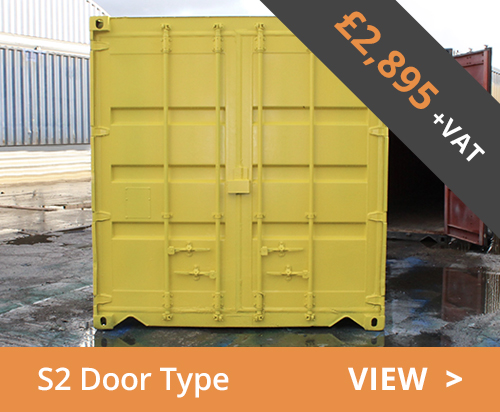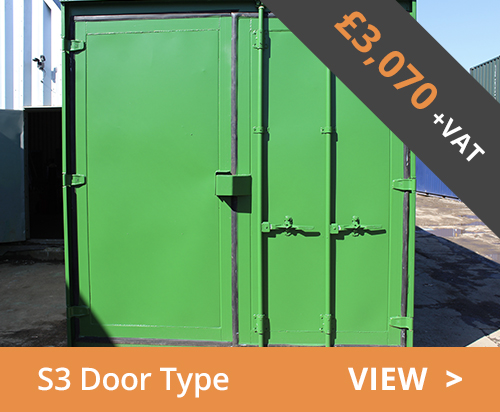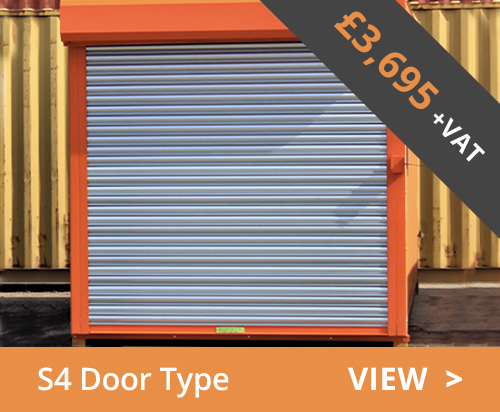 25ft used shipping containers are typically made by taking a second hand 40ft container and cutting into two pieces - one 25ft long and one 15ft long shipping container. Then we complete the two separate containers with either new doors, or a new metal end wall. We use high gauge steel, corrugated steel panels and full seam welding in the process of creating a new 25ft container. We call these cut down containers. During this process, we can modify your unit with a wide range of optional extras to enhance your container, including side doors and ply lining. Refurbished 25 foot containers are fully watertight, strong, and with a lockbox included to give the highest level of security. For extra peace of mind, whatever size you buy comes with a year's guarantee. We can offer all our customers the cheapest delivery rates available by making regular delivery runs from our depot to all areas of the UK, including London, Leeds, Liverpool, Manchester, Glasgow and Newport.





Free with ALL 25ft Used Shipping Containers
Lockbox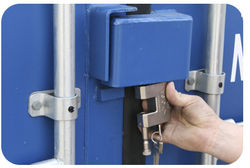 All our 25ft containers come with a steel
lockbox
, which protects the padlock from tampering (usual retail price £55).
Recommended Product for Used 25ft Containers
Repainting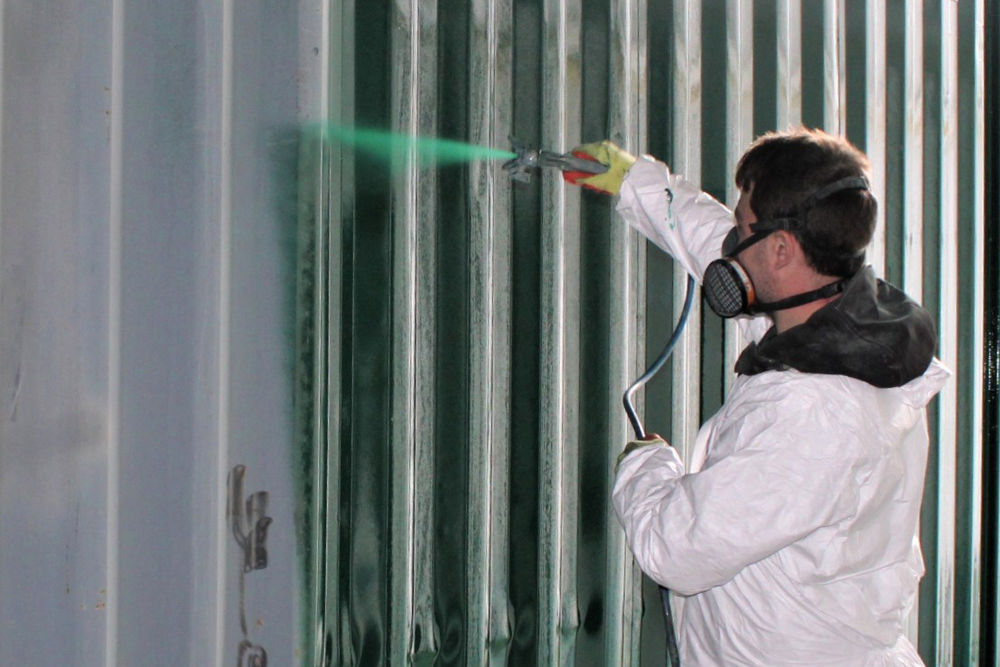 Exterior
repaint
in our specialist rubberised container paint is recommended on used containers, not only to improve the aesthetic appearance but also to extend the lifespan of the container.
The Build Process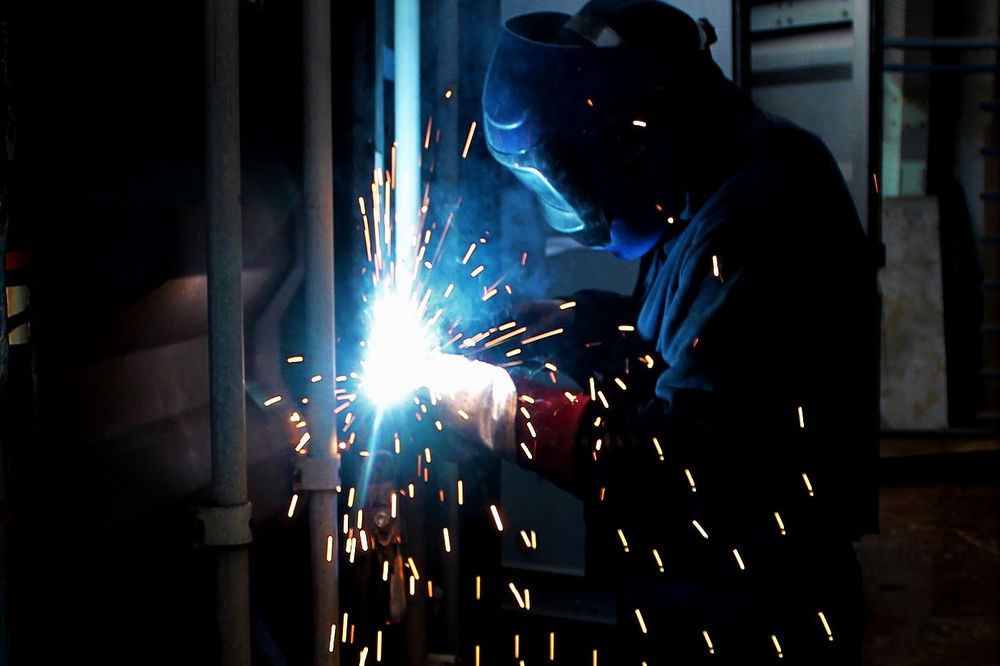 Containers Direct build the 25 foot shipping container in their in-house fabrication depot. The procedure sees us taking 40ft used shipping containers and cutting them down to 25ft long. To complete the containers we then make new doors and walls from high gauge steel and matching corrugated steel panels. All new pieces are then fully seam welded to give a robust, leak-proof box. Quality is always at the forefront of production, making these the UK's top selling 25 ft second hand container. Learn more about how we make
cut down containers
.
25ft Container Dimensions
| Container Type | Length | Width | Height |
| --- | --- | --- | --- |
| 25ft DV | 25ft | 8ft | 8ft6 |
| 25ft High Cube | 25ft | 8ft | 9ft6 |
If you are seeking exact dimensions and specifications for all sizes of containers, visit our
Shipping and Storage Container Dimension Charts
page.
Request a Quick Quote!
Contact our sales team for your no obligation quote, including delivery!
See how versatile the 25ft can be!

TESTIMONIALS
"I found the customer service excellent. They were extremely helpful in answering my questions and dealing with my payment issues. The communication that I had with them on the run up to delivery was faultless. They kept me fully up to date on how my order was progressing and dealt with any issues that came up effectively. I would also like to mention the delivery driver, who made the whole thing pain free. An excellent service overall. I would highly recommend them."
Received from Rosie Smart, Earls Barton Parish Council
"Very helpful and flexible, delivery changed to our needs and very well delivered and sited. A perfect job.
From Chris Harris at Loughborough University, who ordered a used 25ft container with S3 doors, wood cladding and ply lining.
Read all testimonials here!
Quality Used
Shipping Containers for Sale – Range 20ft to 30ft long
Come to us for ANY length, right up to 45ft long! We believe in freedom of choice, so why settle for 24ft long when a 21ft or a 28ft container is the solution for you? We can cut to any length using original size shipping containers to cut down to any size.
Click on the links below for information on our customers' favourite products from this range!
New
? Our
20ft to 30ft long range
comes with affordable price tags.
1 Available Products
Request a Quick Quote!
Contact our sales team for your no obligation quote, including delivery!