Storage Containers For Sale
What is the difference between a shipping container and a storage container?
This is one of the most common questions we're asked at Containers Direct! The simple answer is that standard 20ft and 40ft shipping containers can be used for both storage and shipping, but storage containers are only suitable for storage.


The shipping container
Shipping containers
are built to very precise specifications and must conform to ISO standards. If they are being used to transport cargo, they must be plated and certified in order to comply with international standards. Usually this means that they must be of a particular dimension and capable of being stacked one on top of the other, often eight high, and be capable of carrying a minimum of 20 tonnes in weight.
The storage container
These strict conditions do not apply to storage containers. A storage container can be any length, any size and built to any specification. As long as it's dry and secure it can do the job. The majority of large storage containers on the market are used shipping containers, either original (which give the best value), or modified (which increases choice). They may be
cut down
to any size, or have a variety of alterations that improve their function - such as door changes, insulation and lining, shelving and electrics. The possibilities for adapting shipping containers for storage are vast.
Many people prefer a different style door for storage use, to the traditional corrugated shipping container type. This is because shipping container doors are notoriously heavy and awkward to use, and where frequent access to items is required, flat panel doors are more convenient. For more on different style container doors, see our article
A Guide to Choosing Shipping Container Doors
.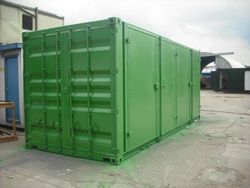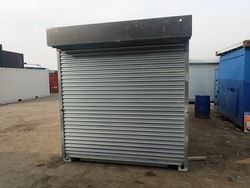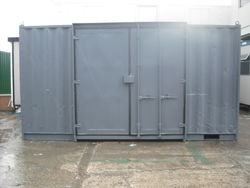 When is a shipping container not a shipping container?
The division however, is not that clear. A shipping container can become only suitable for storage purely attaching a small metal locking box to the door (common as a means of protecting a padlock). The container is still capable of carrying a 20 tonne load and being stacked, but is no longer a shipping container because it is half inch too long!
So do I need a shipping container or a storage container!
The real question to ask is - for what purpose do I require a container? For transporting goods abroad the answer is it's essential to buy a
CSC plated
, unmodified shipping container. For anything else the options are open. We hope that here, at Containers Direct, we can help you find the answer within your budget. Have a look through our products or ring us today - you can be sure of a friendly and helpful response from any of the team!
Testimonials
Foam Concrete Ltd requested a 40ft shipping container, modified for storage use. We left the original container doors at one end and fitted S1 flat panel doors in the side. Lock boxes were fitted to both sets of doors, and the container re-painted in royal blue.

"Would just like to advise you that the container arrived safely and it is just what we required.

Very happy with the product and the driver placed it in the correct location.

We would be more than happy to put your companies name forward should anybody require a similar unit"

Received from Lynton Cox, Foam Concrete Ltd

"Very friendly service, and attention to detail to ensure that no mistakes were made on delivery to site. Exceeded expectations for purchase of a "thing" like a container. Likeable, well trained and personable staff who are memorable for their quality of service. All the way from Mandy and her pre-sales help, the delivery driver and Gareth fixing the lock problem. Yours is clearly a very well run business."

Received from Christian at Vetch Mahne Ltd


---
Quality Used
Shipping Containers for Sale - Range 31ft to 40ft long
We specialise in supplying containers to any length up to 45ft! By cutting down a full size shipping container we can achieve your required length.
In this range, our
second hand 40ft shipping containers
are our top sellers given that they are a standard shipping container size! We always have a wide selection of 40ft containers in stock, and we can provide fast delivery.
Containers Direct believe in freedom of choice, so why settle for a standard 40ft when a 35ft or a 32ft container is the perfect solution? We cut to ANY length!
All quality used 31ft to 40ft containers come with:
Upgrade to
New
for less than you think. Find our more about our
40ft new shipping containers
.
Call us
today to order, or get a
quick quote
1 Available Products