Let There Be Light! How to Power a Shipping Container
Wednesday 29 July 2020 Filed in: General
Did you know we can provide power to your shipping container? Electrics are one of our popular standard optional extras offered with all shipping containers and our clients choose electrical packages for a wide range of applications. Whether it's simply for lighting in a storage container, or to run a range of appliances in a shipping container conversion, we've got the power.
Top 5 most common uses of electrics in shipping containers
Lighting. Even if you're just using your shipping container for storage, it can be dark inside, especially during the winter months when it's more convenient to switch the lights on than rummage around with a torch! For shipping container conversions you'll want lighting for any unit designed for occupancy. After all, no one can work in the dark! Our standard electrical packages include strip lights.


Heating. Most office container conversions require heating of some sort to make it habitable during the winter months. Our electrical package B includes a 2 kw wall or floor mounted convector heater. During the summer months you may want to invest in an air con unit,


Power sockets. These are a basic requirement for all types of conversions, including offices, workshops, plant rooms, pop up shops and cafes. Container workshops need to power tools and equipment, computers will need to be plugged in, and let's not forget the importance of a kettle - image trying to get through the day without coffee!


Food preparation. Containers used as catering units are very popular and need a whole range of appliances to be powered, from ovens to extractor fans and water heaters.


Internet. No office is complete without the internet. A power supply will get you connected.
Installing electrics in shipping containers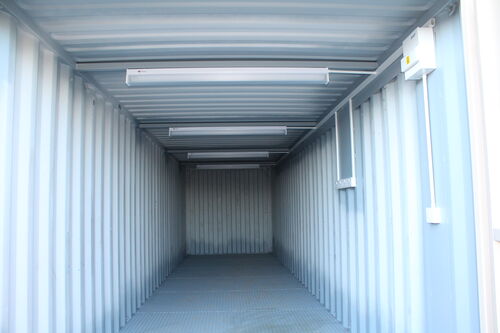 We offer two basic
electrical packages
, both of which include an essential consumer unit and external hook up, which can be plugged in to an external source. Depending on the size of your container you'll need one strip light per 10ft. We also offer bespoke installations for more specialist conversions work, for instance we converted a container for use as a switch room.
For a tidy looking container, all wiring is surface mounted in plastic conduit by welding steel batons onto the container. If your container is ply lined then we fit directly onto the ply. We never drill directly into the container walls/ceiling as this compromises the watertightness of the container.