HOW WIDE ARE SHIPPING CONTAINERS?
Thursday 19 July 2018 Filed in: General
The question of shipping container dimensions is one we frequently get asked. In some ways this is a simple question to answer. Regardless of length, an ISO shipping container is always 8ft wide. But the story doesn't end there.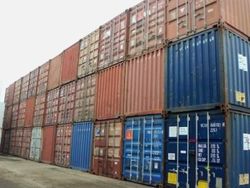 You may be aware that ISO containers are built to a standardised 8ft width, as their primary purpose is to carry cargo across seas, often stacked up to eight high on the ship. As you can imagine, without standardisation of width, the container stack would be unstable and topple. But most shipping containers have a very short sea life - due to rising costs of shipping, it is often cheaper to sell them off once they have reached their destination. As the popularity of shipping containers for storage, conversions and building projects has increased massively in recent times, there is no shortage of container brokers to buy them up and resell.

So what happens to these shipping containers sold on after their seafaring retirement? They are repurposed for a multitude of applications, including storage, office and work space, accommodation, retail and catering, to name a few. This repurposing now renders the reason for standardised width redundant, even incredibly restrictive. If you're having container converted into an office, for instance, you may want it a lot wider than 8ft! Or you may be thinking of storage, but short on space and require something narrower.

Let's look at ways you can get the shipping container with the perfect width for your own needs.


Ways to increase the width of a shipping container
1. Joining up containers
For much wider shipping container spaces, containers can be joined up together. At Containers Direct we do this by simply removing the sides of the containers to be joined, reinforcing the apertures and bolting the units together. Usually the final step of sealing the joining seams is done after transportation to the site. For more details see So with this method you can have a shipping container that is now 16ft wide, 24ft wide, or even 32ft wide if you want to go large! For more details see read
Joining Up Shipping Containers
2. Choose a pallet wide container
Although technically
pallet wide containers
still measure 8ft wide externally, the interior width is increased by an extra four inches, meaning the container still has door access and inside width of 8ft. These containers are called pallet wide, as they can accommodate two standard 4ft pallets in the container side by side.
3. New build shipping containers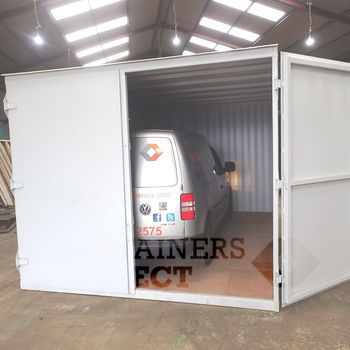 These containers are technically not shipping containers, as they are designed and built for purposes other then seafaring. Built from scratch they are built to any width and design required. Containers Direct specialise in making 10ft wide new build containers, as these are very popular for car storage - the extra 2ft width allows for easier parking and exiting than an 8ft wide unit. We have our own unique
CarTainer
range, specifically designed for use as a garage.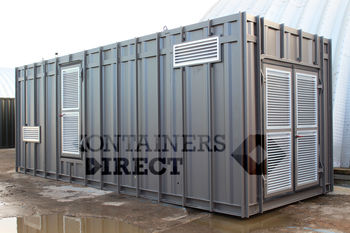 Extra wide new build containers are also popular for
offices
and
plant rooms
.
Ways to decrease the width of a shipping container
If space is at a premium for siting a shipping container, there are two options.
1. Slimline containers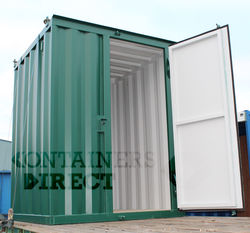 Again these are new builds, but are narrower than an 8ft wide shipping container. Usually we build them to a widths of
5ft
,
6ft
and 7ft. They can be made longer in length to compensate the loss of width. Slimline containers are perfect for storage in spaces that are restricted widthways.
2. Flat pack containers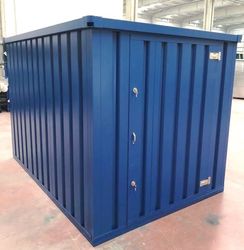 With a standard width of 6.8ft, these storage-use-only
flat pack containers
are the best option for fitting into tight spaces and places with hard to reach access. They are delivered in flat pack form, and every component is man portable.
For full and detailed measurements on all shipping container types, see the
container dimensions charts