COLLAPSIBLE STORES
These are hugely versatile storage containers that come in
flat packed panel form
ready for the customer to put up on site. Often referred to as collapsible stores because they are easily taken back down to their component parts. This is ideal if you don't have the need for static, long term storage. You may want to move your store from one site to another on a regular basis, or there may be times when the store is not in use. Without the need for specialist lifting gear, collapsible stores are simply unscrewed back down to panel form, leaving it light enough to be man handled and compact enough to be manoeuvred, even through tight corners and narrow passageways.
Can be delivered to any site!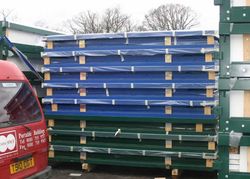 Because they are so portable, collapsible stores are the only type of storage container suitable for some sites. Imagine how difficult the delivery of an already constructed store would be if your delivery address is 'off the beaten track' with height and width restrictions on approach, or if you're planning a store at the back of your house.
Assembly - no specialist skills required!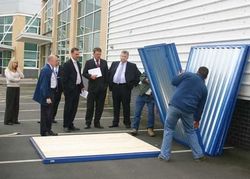 Putting collapsible stores up and down is not a complicated task. All the fixtures needed come in the kit, and even the less able DIY-er should have a completed store up in less than 2 hours. As stores come in 3 different lengths- 2m, 3m and 4m, the time taken will depend upon the size you've chosen. As a general rule, the job requires one person per metre. See our
assembly guide page
for an overview.
Hardwearing and secure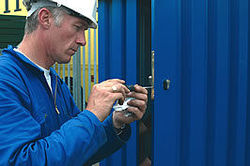 All collapsible stores are manufactured from powder coated galvanised steel for durability against knocks and corrosion, and for additional protection of your stored valuables a double locking system is fitted. Standard colours
available in stock
are green and blue, but an additional coat of paint can be added as an extra if a different colour is preferred.