Budget Shipping Containers
Cheap
shipping containers
can be a good temporary solution to short term storage needs, as there are plenty of budget containers on the market with just a few months of life left that may help you out in a crisis. However, it is important to bear in mind that as with most things in life, you get what you pay for. We advise you to think about how much use you want to get out of the container first, as cheap shipping containers are not a cost effective longer term solution to storage, and are likely to come with the need for ongoing maintenance to deal with rust patches and fix leaks that can damage your stored items. In short, budget shipping containers could end up costing you more than the price of a more expensive one!
Quality used containers vs cheap budget containers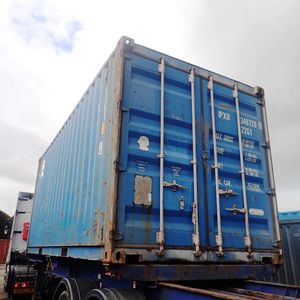 Most containers are priced according to their condition, which should be an important consideration when purchasing. As a better option to cheap shipping containers, Containers Direct recommend quality used shipping containers, which are reasonably priced and come with a warranty against leaks for the first year after purchase. You can expect a good many years of dry and secure storage from a quality used container, but still at a good price compared to new, or nearly new.
Things to look for in a used container
The cosmetic appearance is not crucial to the condition of a used shipping container. You should expect plenty of surface wear and tear from handling during sea-faring journeys and at ports. This can be easily covered with a repaint. Containers Direct offer this free with all used containers under 20ft. It's more important for the container is structurally sound. Most used shipping containers on the market are between 10-15 years old, so the most important factors in whether you have a usable container at a decent price are:
The container is watertight: check there is no daylight showing through by going inside the container! If you can see light showing through then the container has a hole and will leak. It's common for used containers to have patches of rust but any spots that have "gone through" should have been repaired before sale. Containers Direct use patch repairs as a solution. A welder removes the damaged section and replaces it with a matching piece of corrugated steel. The patch is fully seam welding on the container. So a professionally seam welded patch shows a repaired container, not a damaged one!


Free and easy doors and intact seals: check the door seals to make sure the container is watertight! Shipping container doors have seals around the outside to prevent water ingress from damaging the cargo. The door seals should still be intact and lining up properly against the container. Test that the container doors are 'free and easy' to use as used containers are renowned for having stiff, arduous doors. Whilst this isn't uncommon, you should check they are still usable as sometimes rust can build up inside the hinges, rendering the doors unusable. We offer new, easy-to-use flat panel doors at no extra cost with all containers, if this is your preference.


The wooden floor is intact: check the condition of the floor. You should expect signs of wear and tear but these should be cosmetic and not structural. Shipping containers have marine ply floorboards which are attached to steel cross members on the underside of the container so check these are intact.
Quality used shipping containers
See our prices for our most popular shipping containers at Containers Direct:



Request a Quick Quote!
Contact our sales team for your no obligation quote, including delivery!
Testimonials
"Good containers arrived as planned with no hiccups."
From Guy Cook at Barnwood Ltd, who bought a used 10ft container and five 20ft containers.
Read all testimonials here!