PORTABLE CONTAINERS FOR SALE
Our portable containers for sale are the recommended option for anyone that needs a storage unit but has restricted space or capacity to take delivery of a full size, pre constructed container.
Overcoming the problems of limited space and access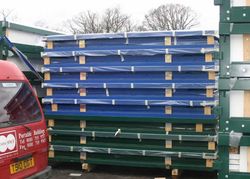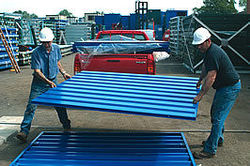 As this is a flat pack product it offers the mobility and flexibility that only self assembly products can give. The component parts can be carried by hand through small spaces that would be completely inaccessible to a hiab lorry (truck mounted crane), which is the only deliver method feasible for standard containers. For this reason our portable containers for sale can even reach your back garden!
Quick and simple construction makes relocation easy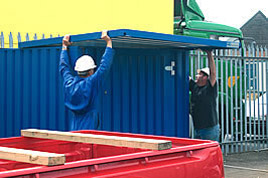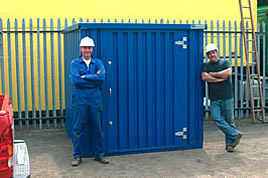 Portable containers for sale are also the container of choice for storage that needs to be moved around frequently. Again, without the need for a hiab lorry, the container can simply be unscrewed and flat packed again for relocation - good news if you are moving house, or your organisation/ business has more than one site. But don't be put off by the idea that anything flat packed is a nightmare to construct. All our portable containers for sale come with full assembly instructions, including all the fittings needed - all that is required by you is a screwdriver and socket set and around an hour of your time. See our article on
assembly
for a visual guide to construction.
Standard features and optional extras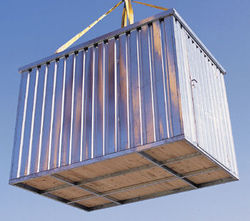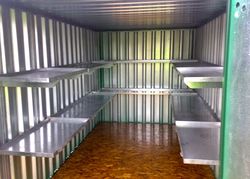 Our portable containers for sale are made from galvanised steel and have duel locks, to gives you peace of mind against theft and vandalism. There are a range of optional extras available to customise your container, including shelving, and a choice of 'feet' to attach - forklift, self levelling or castors. We also offer a coat of rubberised container paint over the galvanised body, which will give your container an attractive finish AND give it a protective coating for maximum durability.
Available in three sizes
To view portable containers for sale take a look at our
2m
,
3m
and
4m
products.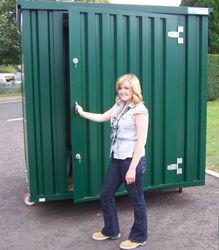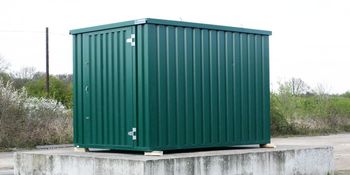 Portable Container Dimensions
| ContainerType | Length | Width | Height |
| --- | --- | --- | --- |
| 2m | 2.1m | 2.1m | 2.1m |
| 3m | 3.1m | 2.1m | 2.1m |
| 4m | 4.1m | 2.1m | 2.1m |