Title: Do you know the difference between New and Used containers?
Monday 10 February 2020 Filed in: General
Not sure whether a new or used container is best for you? What's the difference in quality and performance between the two? And how much value can you expect to be added in paying extra for a new container? Find out the answers to these questions and more.
Used shipping containers
Used shipping containers
that come off shipping lines and are available to buy on the storage container market will typically be 10-15yrs old. That's a lot of trips, and naturally the condition of the container will reflect this. Expect cosmetic damage ranging from dents, scuffs and scrapes and scratches to surface rusting and repair patches. The good news is that shipping containers are built to incredibly strong standards and rarely will the integral structure of a shipping container of this age be affected by its cosmetic appearance. A good quality used container will be still be watertight and good for use for at least another 10 -15 years if looked after properly. Made from Corten steel, otherwise known as weathering steel, surface rusting can be a protective factor on steel containers, forming a "scab". As long as there are no holes in the container, rusting is not an issue.
See our blog post
Tips on Buying a Used Shipping Container
for the things to look out for if you do decide to buy a used shipping container. As a simple storage container, used is generally more than adequate and excellent value for money.
Improving the appearance of a used shipping container
A
repaint
in rubberised marine paint, available at Containers Direct, will considerably improve the cosmetic appearance and give protection against further deterioration. For smaller containers, we provide this service free of charge, and for containers 20ft plus, we offer competitive prices, in a wide range of colours.
New shipping containers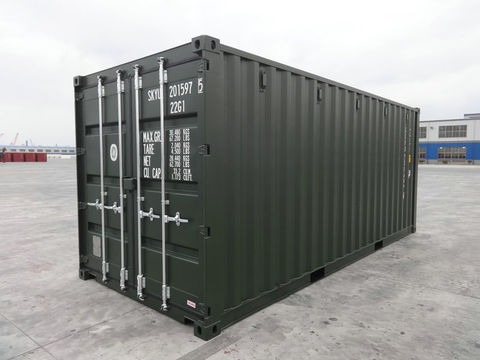 New shipping containers
are mostly manufactured and imported from China. They will have made one trip in order to arrive at our shores, and to keep costs down they will have been loaded with cargo for this purpose. Their cosmetic appearance will be far superior to that of a used container, but it is possible that there will still be a small amount of evidence of handling from their one trip. They will give you a good 10yrs or more use than a used shipping container, which is reflected in the price difference. New containers are generally chosen over used containers where cosmetic appearance is of higher importance, for instance, if you are buying one for your business that needs to present a professional appearance.
For brand new containers, that is containers made in the UK and have never been used, you may want to check out our New Builds. These are bespoke orders, manufactured in our in-house fabrication department, and are generally unique sizes. Standard shipping containers are manufactured in
20ft
and
40ft
lengths, and 8ft wide, so our clients will come to us for a new build if they require sizes out of this range – in particular if they require
narrower
or
wider
containers. Shorter containers are easy to make up by cutting down larger shipping containers, but alternative widths can only be acquired from new builds (unless you
join together
standard 8ft wide containers to give widths of 16ft, 24ft etc).
Container conversions
The
container conversion
is at the height of popularity as a quick, affordable and unique way to acquire more space for your home or business. Popular applications are
container offices
,
chemical stores
,
catering units
,
home garages
, and much more. Both used and new shipping containers are suitable for container conversions, depending upon your budget and how many years use you expect to get out of the container. Many of our biggest clients have gone with the more budget-friendly used containers to complete their projects. Our sales team are always on hand to offer advice and a quote if you are unsure which is most suitable for your project.