LARGER CONVERSIONS - JOINING SHIPPING CONTAINERS TOGETHER
Monday 29 April 2013, Filed in: General
Shipping containers are often used as the basic structure for conversion into an accommodation unit (ie site office, clubhouse, welfare cabin). They make the perfect low cost secure, anti vandal site accommodation, but as shipping containers are manufactured in a standard width of 8ft, this can sometimes prove restricting if a larger space is required. The solution to this is to join shipping containers together, side by side to give a width of 16ft, 24ft or even 32ft. These larger conversions can also be used as extended storage area.
How we join containers together
Remove the sides of the containers
Reinforce the aperture and the two supporting pillars with box section steel - this is done to stop the roof sagging in without enough supporting weight
The containers are then butted together
The containers are welded together once in place on site
Prices -
£550
per 20ft side,
£1050
per 40ft side (plus installation on site costs)
For conversions with the upright supporting pillars removed, a far more heavy duty box section steel is required to reinforce the top rail, in order to support the roof section (price upon application)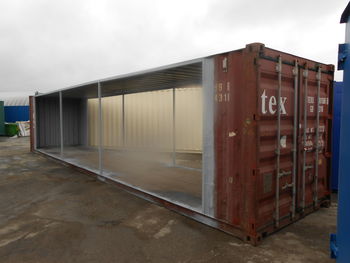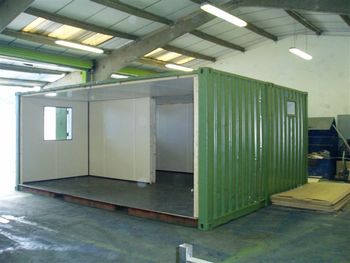 Take a look at this
case study
of a joined container conversion we undertook for a garden centre in Hampshire
For office conversions
All office conversions are completed as standard with lining and insulation, steel doors and steel shuttered windows, and fitted electrics. Additional features can be added upon request, such as partitioning, and fixtures and fittings such as toilet and kitchen facilities.
For extra wide storage space
This method for joining shipping containers together can also be used to achieve an extended storage area, in which case the normal selection of features available with converted storage containers apply:
Repainting - choose from a large range of colours
Grafotherm - treats and prevents condensation
Choice of door styles:
S1 Storage container doors, which are much lighter and easier to handle than shipping container doors

S2 Original shipping container doors, which are heavy duty and rubber sealed

S3 Storage container doors, which are lightweight and include a rubber seal
Call 0800 061 2575
Calls may be recorded for training and quality purposes