Second Hand 30ft Shipping Containers
30ft used shipping containers are a size that we always hold in stock. ISO shipping containers usually come out of the factory as 40ft or 20ft, the universal size for intermodal transport and shipping, however if want the strength, security and low cost offered by a proper shipping container you may well not want to be restricted to these sizes. We specialise in modifying 40fts to any length required with 30ft used shipping containers being one of the most popular lengths. 30ft used containers are a popular choice for use as basic storage containers, with perhaps the addition of optional extras such as ply lining or repainting. Often we are asked to fit
doors in the side
for easier access or add windows and pedestrian doors for use as a workshop or office space. The 30ft is also a common size for more industrial conversions such as
biomass boiler houses
or for housing heavy machinery, where vents, sliding roofs and more complex engineering work is required.
Check this out for an example!
We create 30fts by taking new or second hand 40fts and cutting them into two new containers - one 30 ft and one 10 ft.
10ft containers
are in high demand too so the cost of the conversion work is spread across the two boxes. Not only does cutting down used containers produce a wider choice of sizes, but also allows them to be refurbished with new steel doors. Picture a whole metal box cut up into two pieces - only one will have the door remaining intact, so we have to fabricate a new door to complete the other newly created container. This allows us to create different door types to suit individual customer needs. We offer 4 door types as standard on all of our containers for sale. The S1 and S2 doors are the cheapest to buy, but the S4 Roller Shutter option or the higher price of the premium quality S3 door type offer great value too.
Free with ALL 30ft Used Shipping Containers
Lockbox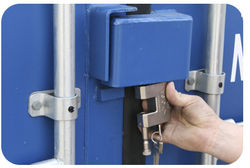 Our 30ft containers all come with a steel
lockbox
, which protects the padlock from tampering (usual retail price £55).
Recommended Product for Second Hand 30ft Containers
Repainting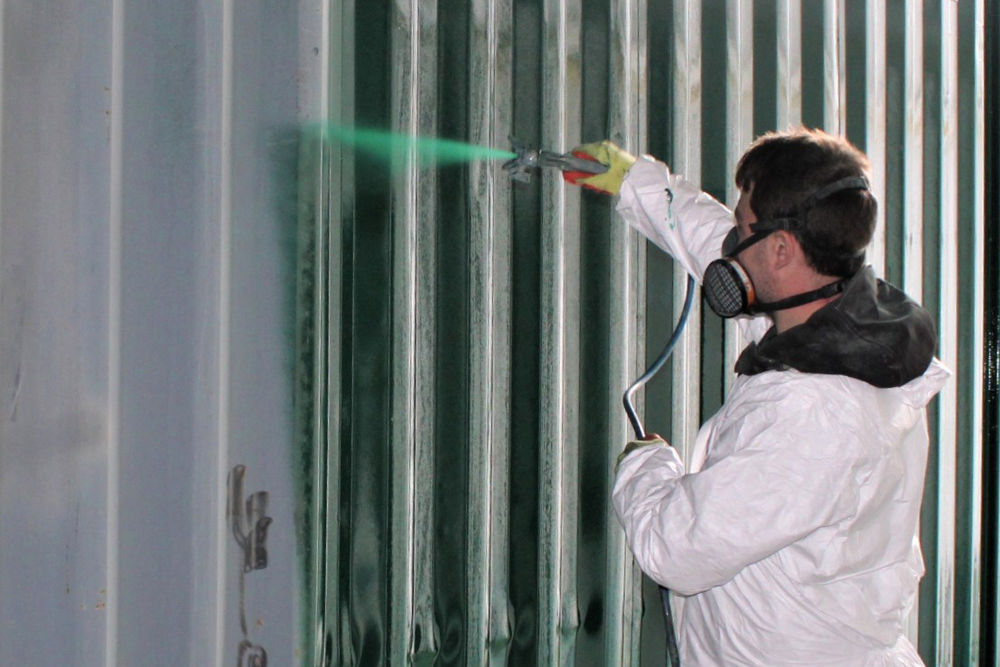 We reccommend adding an exterior repaint in specialist rubberised paint to our used containers, as this improves the lifespan and aesthetic appearance of your container. The price to repaint a used 30ft container in a standard
RAL colour
-
£280.00 plus VAT
The Build Process
We supply 30 foot containers from our in-house fabrication depot and deliver to all parts of the UK. In order to supply our customers with a choice of doors, we cut down 40ft shipping containers into both a 30 ft long and 10ft long container. One of our new doors and end walls are then added, using high gauge steel and matching corrugated metal panels, which are fully seam welded. Learn more about how
cut down containers
are made.
Request a Quick Quote!
Contact our sales team for your no obligation quote, including delivery!
See how adaptable the 30ft can be!
TESTIMONIALS

From Johnson Bros Ltd, Oldham
"Your personnel were very helpful, knowledgeable and quick to respond and polite. Prices are fair. And the delivery occurred on time and very efficient."

Gilmerton Primary School in Edinburgh required a 30ft container for bike storage. We treated the container with Grafotherm and fitted 20 bike hooks across the walls.
"We were satisfied with every aspect of the service. Friendly, knowledgeable and efficient service - everyone from the advisory staff at the office to the lorry driver!"
Second Hand 30ft Shipping Containers 20ft to 30ft Containers